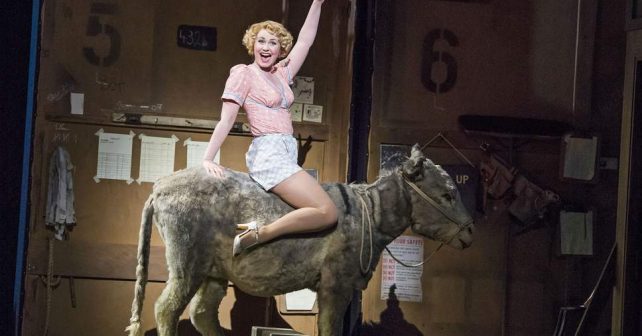 From the opening bars of 'Another opening, another show" you know you're in for a joyful night. Cole Porter's 1949 comedy musical is packed full of infectiously hummable big numbers with clever, witty lyrics. The sexual politics may not have aged well ("I'll give you a paddling") but the songs most certainly have.
Based on Shakespeare's Taming of the Shrew, the storyline is essentially a musical within a musical. Divorced showbiz couple Lili Vanessi (Stephanie Corley) and Fred Graham (Quirin de Lang) still work together and must continue to perform onstage as their Shakespearean characters – Kate and Petruchio – even when their personal lives threaten to derail the show.
The staging is lavish, the orchestra wonderful and it steps up a gear in the second act. Stand out performances come from Zoe Rainey as Lois Lane/Bianca who gives a belting rendition of "Always True To You In My Fashion" (pictured above) and Alan Burkitt as Bill/Lucentio whose tap dancing song and dance solo in the second half is stunningly good.
This Opera North production is only on for a week, but it's a treat. With tickets just a tenner for under 30s, this really is a delightful way to "brush up your Shakespeare".
Now – June 30th: Kiss Me Kate
London Coliseum, St. Martin's Lane, WC2 4ES
Under 30s/students £10 – For more info/to book click here