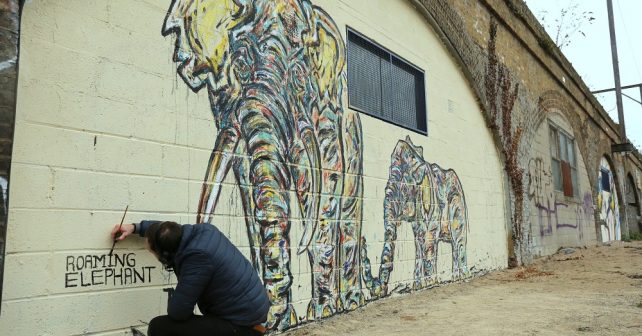 If there's one thing that London's great at, it's street art. Now in a new initiative a group of artists have joined forces with an east London charity to paint nature murals in Tower Hamlets.
Six street artists in all – from the UK, USA, Spain and Hungary – are collaborating with the Friends of Tower Hamlets Cemetery Park. Their nature-inspired paintings have been springing up in Ackroyd Drive Greenlink, part of the park.
The charity hopes the lure of the colourful animals will bring people down and add some love to the area!
The group have so far knocked works including some psychedelic elephants, a gaudy peacock and some brightly-hued blue tits.
One of the curators, Bablu Miah tells Skint, "There is no funding for this project and we have all been doing this project voluntarily. A couple of organisations have kindly offered to sponsor the project by providing us free paint all for the love of art.
"We currently have four murals completed and two more will be painted in the coming weeks."
Ackroyd Drive, Cemetery Park, E3 4AT