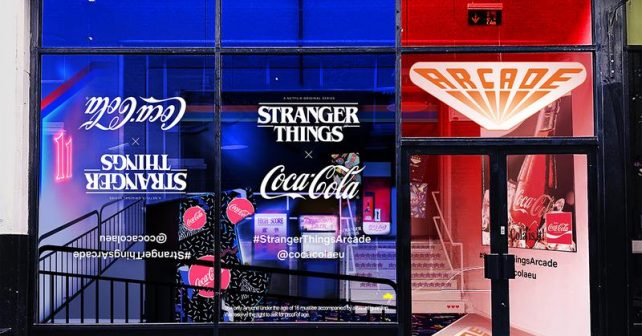 Get out your best 80s pastel coloured suits, hair gel and ra-ra skirts; the new series of cult show, Stranger Things is out on 4th July,  And, as part of the celebration, one FREE to enter pop up is transporting everyone back to the town of Hawkins, 1985.
The one-day attraction in Spitalfields will be choc full of nostalgic gratis arcade games to enjoy, a scoreboard plus prizes.
It's unticketed and the first 800 people in can grab themselves a limited-edition upside down Coca Cola can. Be prepared to queue and remember, London: One summer can change everything.
Thurs 11th July, 11am – 9pm: Stranger Things Upside-Down arcade: 800 FREE limited edition Coca-Cola cans.
The Arcade, Hawkins, Shop 4, Brick Lane, E1 6QR
FREE – for more info click here