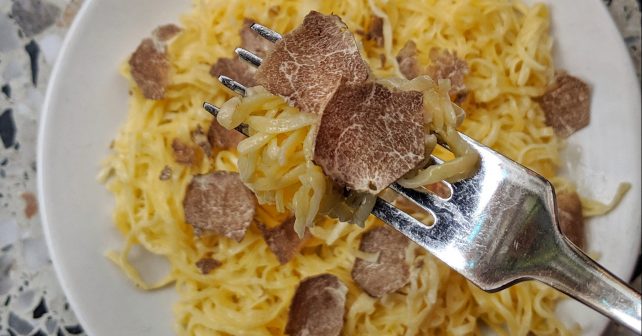 Foodies, this is one very exclusive offer, but you'll have to be mega quick so put down the kombucha and acai bowls and listen; this is your chance to tuck in to pasta with FIVE GRAMS of truffles.
Soho restaurant, Pastao is doing an upmarket deal to celebrate Black Friday The first five people through the doors at midday – and another five at 6pm – will be able to claim their fresh taglierini with fresh white truffles on the house.
According to the restaurant a dish with that much white gold usually costs an eye-watering £50 – £70 so, in short, it's a frickin' great giveaway. (If you're not one of the chosen 10, the restaurant will also be selling the dish at a much discounted £20 per person on Black Friday.)
So you know what you've got to do.Time it well and you and a mate can dig in to the dreaminess for nothing. Zilcho. Squat. FREE. You'll thank us.
Fri 29th Nov, from 12pm + 6pm: 5 FREE fresh white truffle taglierini per sitting
Pastaio, 19 Ganton Street, W1F 9BN
For more info click here