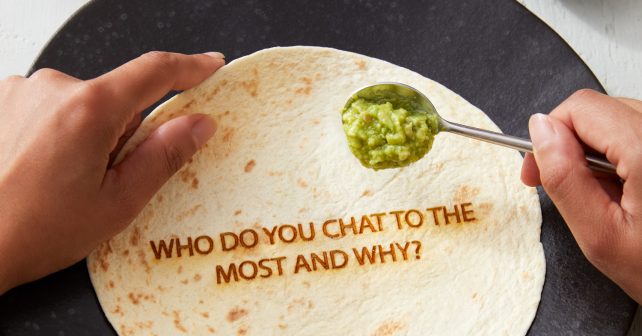 This is an ideal evening for all chatterboxes. For one night only, Mexican food brand Old El  Paso is giving out FREE fajitas and margaritas. Your job: to chinwag and power the pop-up!
So how does it work? All the laughter and banter that's picked up in the specially designed space will be channelled through specialist microphones and on to electricity converters to keep the lights blazing – and warm up your food.
Should you need help, there'll be a push button at each table which will dispense a card with a conversational starter. Organisers will even be giving away prizes to the table that creates the most electricity on the night so arrive ready to talk up a storm.
It's all to celebrate National Fajita Friday (who knew that was a thing?) and it's a strictly first come, first serve event so no booking. Whether you take mates or dates, we predict this will be a very popular night.
Fri 20th Sept, from 7pm: Old El Paso Fajita Friday Pop-Up: FREE fajita + margarita (or soft drink) 
4 Brushfield Street, E1 6AN