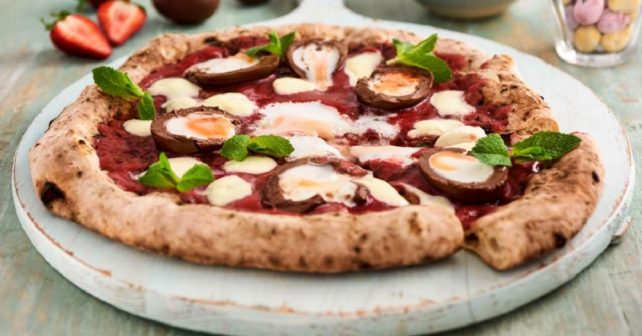 What sort of festive lunacy is this? A Cadbury Creme Egg pizza; has the world gone mad?
Say hello to the Deliveroo limited edition Easter Fior-egg-tina. And it's a definite love it or hate it.
In an imaginative twist – or do we mean gross? – Clerkenwell-based Crust Bros, creators of this Frankenstein dinner, have replaced the traditional cheese and tomato base with a strawberry and mascarpone one. Instead of baby basil, there's an oozy Creme Egg centre.
Joe Groves, of Deliveroo, says, "Creme Eggs and Mini Eggs are a British institution and pizza has always been a firm favourite of Deliveroo customers. We know that people love to indulge at Easter, and we wanted to come up with a creative way to help."
And. as if all this doesn't sound sweet enough, you can be even more indulgent. For a little bit extra, they'll sprinkle on some extra crushed up Mini Eggs!
Is it egg-cellent? Are you egg-tastic or egg-recious? Your call!
7 -14th April, the Fior-egg-tina costs £6.45 (50p more if you add Mini Eggs) and is available to Deliveroo customers who order from Crust Bros.