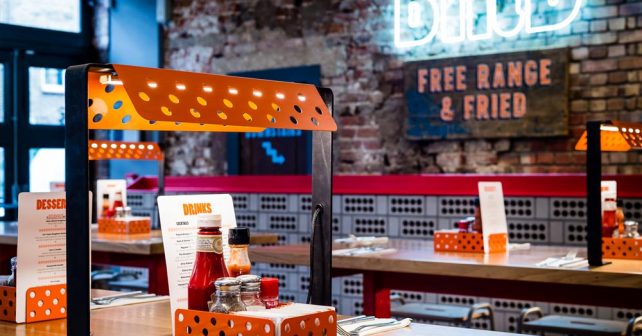 Posh fried chicken places have been popping up at a steady rate across the capital over the past decade. Once seen as the snack choice of the late night reveller or Saturday football crowd, new restaurants have upped the game offering clever and tasty twists on the classic snack.
Enter Bird – there's four in all – dotted around north and east London:  Camden, Shoreditch, Stratford and my local, a drumstick-throw north of Highbury & Islington Station.
Former investment banker Paul Hemings and his chef wife Cara Ceppetelli opened their first outlet – with its eye-catching orange and white logo – in 2014. After the success of their initial restaurant the pair are planning on opening more next year.
Bird on Holloway Road is a bright and breezy place with exposed brickwork, funky orange lights and seating at booth-style seating. It's also the only chicken eaterie my partner Lucy and I can agree on!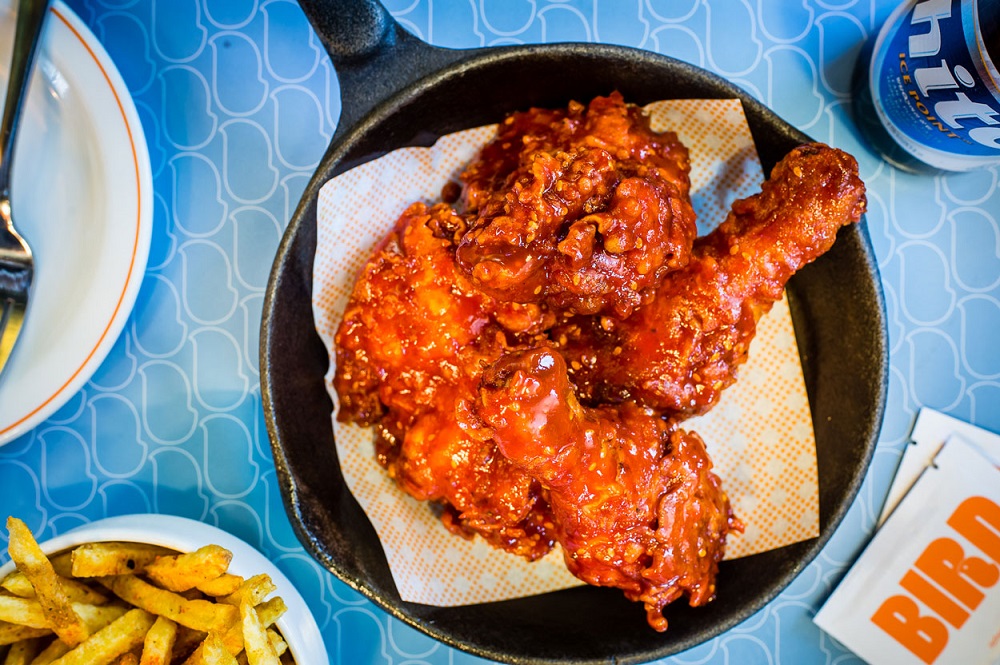 Diners have a choice of toppings at Bird's Wing Wednesdays
It attracts a mixed clientele from hipstery twenty-somethings to couples and suited gents. The menu is equally as diverse. In a sign of how far the humble chicken shop has come of late, the chain serves up a variety of burgers, waffles, cocktails and salad options too. (Curly kale, broccoli and rocket, anyone?)
And, the good news is it's very reasonably priced. You can easily get a great feed for £10 or less.  But it's the Wing Wednesday deal you really should know about. 12 chicken wings AND a two-thirds pint of beer all for a tenner. Result!
There's a choice of lip-smacking toppings as part of the deal; Coconut Jerk, Honey Ginger and Katsu Curry all stand out from the menu but I go with the spicier Korean glaze. Lucy chooses a burger opting for the West Coast with its chicken breast, guacamole and jalapenos.
Lucy enjoying her 2-4-1 Maple Sour cocktails!
We kick off with some deep fried pickles for starters – the rich blue cheese sauce alone justifies the trip – before my tub of meaty wings arrived. The sauce has a tangy, spicy kick and the flesh falls off the bone. Each morsel is gristle-free, not too chewy and leaves no lingering oily aftertaste. All are greedily polished off!
For afters, we look past the doughnut and ice-cream options on the menu and end our night with a Reese's peanut butter cup cheesecake. Our sweet comes piled high with whipped cream, crushed nuts and toffee fudge garnish. Lovely and mega rich in equal measure. Lucy washes it all down with a tasty looking Maple Sour whisky cocktail. Her verdict; "perfectly smoky, sour and sweet."
We waddle back in to the Islington night sated and woozy. Who needs a cheeky chicken from that other place when you can have a Cheeky Bird?
Bird offers: £10 Wing Wednesday (12 wings and a beer) every Wed across all branches.
2-4-1 cocktails Mon – Fri 5pm – 7pm.
For more info click here

Sponsored copy