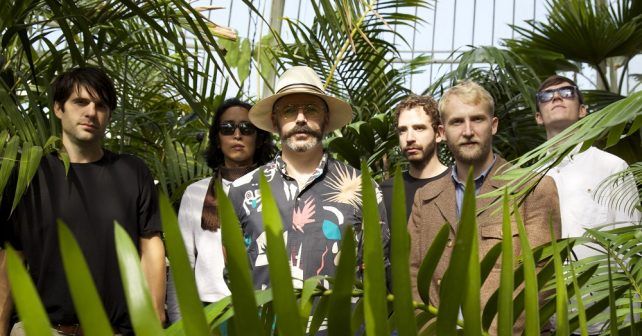 "This is the kind of music I've always wanted to make…" says Rob Smoughton

Take a 39-year-old member of Hot Chip and leftist post-punk band Scritti Politti, Rob Smoughton, put him with him a percussionist from The Severed Limb and the keyboardist from Cold Specks and you've got Black Peaches.
The 30-something, six-piece, part-rock, part-dance, part-funk outfit may not be a a household name but they're coming off the back of a busy summer smashing the festival circuit. Their reward? A first nationwide headline tour.
I caught up with front man Rob (in the fetching hat, up top) ahead of their gig this Thursday at Electrowerkz. With a past in political rock, he must be a Strummer-esque rock hedonist?
"I'm no different now to how I was when I was 17!" He laughs "It's always been about the music. Our night will be hedonistic in people wanting to forget their problems and rock out to the music! But it's not Led Zep on a Learjet!"
Black Peaches are playing at Electrowerkz on Thursday December 8th. Tickets cost £9.90 (including booking fee) and can be bought at: https://www.ents24.com/london-events/electrowerkz/black-peaches/4856120