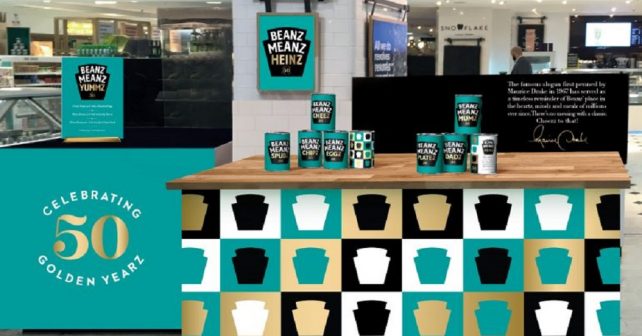 Calling all Heinz Baked Beans lovers (and let's be honest isn't that everyone?) Selfridges is celebrating the iconic brand with a special four week pop- up.
It's to mark 50 years since advertising legend Maurice Drake came up with the  immortal strapline 'Beanz, Meanz, Heinz' and changed our relationship with stewed tomato sauce forever.
On offer is a tub of hot beans with either scrambled eggs, bacon or ham with cheese for £3 a pop. Yes, that is way more than a tin would cost in the supermarket so it's a bit of an extravagence but it is fun – and tasty.
If you class yourself as a Heinz Beans obsessive then take note; on 5th April the company are also selling 50 limited edtion £10 collectible cans via the Foodhall and Selfridges website. Each one is signed by Mr Drake and all proceeds go to the Ideas Foundation.
Unsigned commemorative tins – featuring the three-word slogan – will also be sold throughout Selfridges for £2 each.
Maurice Drake says: ""Sometimes I can't believe it, everyone hopes to have a moment that defines their career and creates a lasting mark but I still find it incredible that, over 50 years later, the seemingly timeless 'Beanz Meanz Heinz' slogan continues to have relevance and brand power."
Now until 23rd April. No need to book, just show up and chow down!
Selfridges Foodhall, 400 Oxford Street, W1