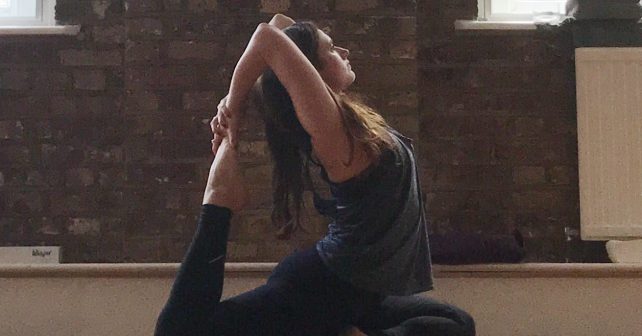 Three years ago, 29 year old Zoe Sharp  a yoga teacher was attacked in a Wimbledon park whilst she was sitting on a bench waiting for a student. Someone had thrown a brick at her head.
The next thing she remembers is the police arriving. Fast forward and she was sent home from A & E with 13 staples in her head and a suspected hairline fracture. Six months later she was diagnosed with a brain injury and post concussion syndrome.
Today Zoe looks the picture of health and – apart from not being allowed to drive – thankfully, has fully recovered. She's worked with Millie MacIntosh and now teaches in some of London's top studios.
Zoe is convinced that yoga was instrumental to her recovery and believes that many people are being priced out of classes in London. To that end, she now runs affordable weekly classes in Islington priced at just a fiver.
'I know first hand that it has so many benefits and I'm keen to keep it accessible and available to all."
A happy ending for Zoe – and skint Londoners.
Every Mon, 6pm and from 22nd Sept 6pm + 7pm:  Yoga classes
27- 29 White Lion St, Claremont Centre, Angel, N1
£5/class – To book click here
For more info click here