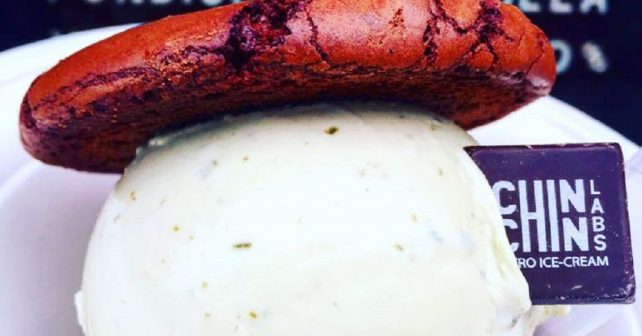 Pleasing puddings, festive decorations, yuletide splendour – these are a few of my favourite things! Somehow, those clever sorbet scientists at Chin Chin Labs in Camden have managed to combine all three.
Friends, I give you; the Christmas Tree Ice Cream!
The dish doesn't look too festive on first inspection. No baubles. No adorning angel. Instead my light-coloured spherical scoop comes neatly sandwiched in cookies.
And it does taste like a Christmas tree! It's firm and not overly sweet to taste and like all good ice cream, doesn't liquidise too quickly on the tongue. But it's all in the aftertaste; it's tangy but pleasant and refuses to leave.
It conjures up a hint of something alpiney or conifery. How do they do it? The server is tight-lipped. "Oh, a clever mix of herbs and spices!" he grins back.
Chin Chin is the first liquid nitrogen ice-cream parlour in Europe and they're all about hosting a seasonal menu. (Options change week to week.)
My advice; get one of these before it goes!

Chin Chin Labs, 49-50 Camden Lock Place, NW1. Open daily from 12-7pm .
Christmas Tree Ice Cream is available until 2nd January