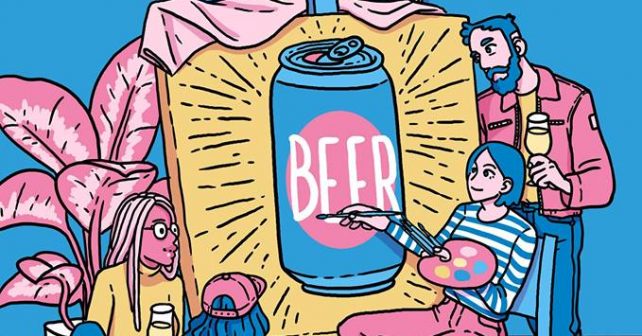 For all you beer and art lovers out there (that's a lot of Londoners), head east this Thursday night for one-off art pieces and FREE beer samples.
ABV (Artistic Beer Visuals) at London Fields Brewery is bringing together renowned artists and international breweries to show off their work.
London booze-art highlights will include Justin Taylor from One Mile End and Tida Bradshaw from Bermondsey's Affinity Brew Co., Nick Dwyer from Tottenham-based Beavertown Brewery (check out his alien pic above) will also be on hand.
For lubrication, there'll be London Fields Brewery and The Brooklyn Brewery tasters and servings all evening. Oh and look out for the lovely sounding London Göse Dark which is a special black tart beer. Don't mind if we do. Cheers!
Thurs Nov 15th, 5pm – 10pm: ABV (Artistic Beer Visuals)
London Fields Brewery Light Arch, 369-370 Hemsley Place, E8 3SB
FREE – for more info click here