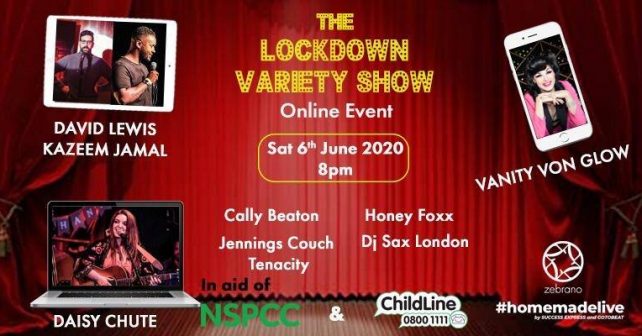 For all those in need of some lockdown light relief, you're in luck. We bring you an online festival of comedy, drag and music all from the comfort of your own home!
This Saturday's Zebrano's Lockdown Variety Show is presented by *full disclosure / spoiler alert* David Lewis, Features Editor of this very parish. It's all raising much needed cash for NSPCC and Childline.
Look out for hilarious comedy from Cally Beaton (The Apprentice, You're Fired and QI) drag from Honey Foxx plus others as well as music from Jennings Couch (vid above) and Daisy Chute.
There'll be plenty of other surprises so get that bottle of red and snacks ready, test your WiFi connection and see you this Saturday night for the lolz!
Sat 6th June, 8pm – 9pm: Zebrano's Lockdown Variety Show
Tickets cost from £3. A contribution of just £4 will pay for the call which can save a child form abuse.
To bag your ticket ahead of the show – click here