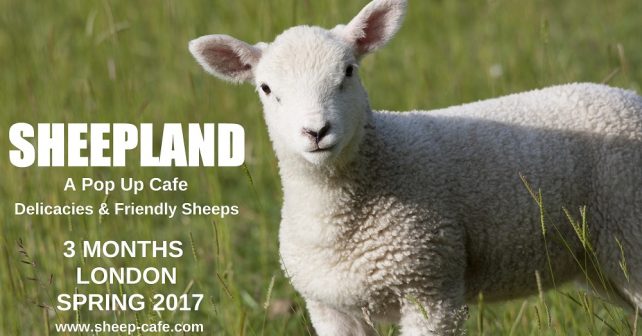 The capital's Cat Emporium is so passé, the bar where dogs worked as waiters is soooo last year. Readers, we give you THE animal fad-themed pop-up of 2017, The Sheep Cafe!
Yes, that's right! For three months from May, you'll be able to swing by SHEEPLAND, for coffees and and snacks – but who cares about that – you'll be able to hang out with Jake and Jenny, the friendly resident sheep!
Currently, it's still being crowd sourced so for the cafe to go ahead, organisers need to attract 500 bookings  before the proposed May 12th launch date. 6,000 tickets will then be made available to those wishing to pop down to the yet-to-be-confirmed London location.
Those leading the project say: "The idea is to experience nature in the middle of a big city. Having these two cute sheep nearby makes it easy to commune with nature and to learn more about the interesting creatures."
The cafe will be the UK's first. The idea comes from South Korea who are clearly ahead of the curve when it comes to ovine recreation. Can't all be baaaaaaaaaad. (Sorry.)
SHEEPLAND will be open for three months from May if enough money is raised
Venue – TBC
For more info – and how to donate – click here