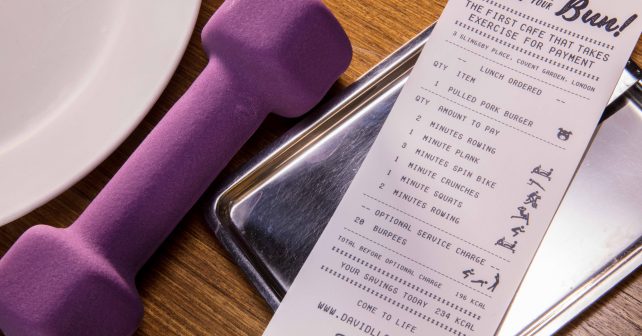 Are you one of the millions of office workers who spends eight hours a day sitting on your bottom? (extra bad marks if you email the person only two metres away!)
According to David Lloyd fitness clubs that adds up to a whopping 65.8 days over the course of a year not moving!
To persuade us all to get more active, they are launching a pop up Run For Your Bun café in Covent Garden.
In exchange for a FREE lunch you 'pay' for it  with a six minute high intensity micro workout.
Instead of payment tills they'll be treadmills, bikes and rowing machines. On the menu  lunch options will range from cous cous with apricots, raisins and pine nuts to grilled chicken burger or pitta with mixed salad and smoked salmon.
A work out followed by a delicious FREE lunch, that's what we call a win-win.
Wednesday 11th – Friday 13th January, 3 Slingsby Place, Covent Garden,12pm-3pm.
Click here to reserve your place: https://billetto.co.uk/run-for-your-bun-cafe