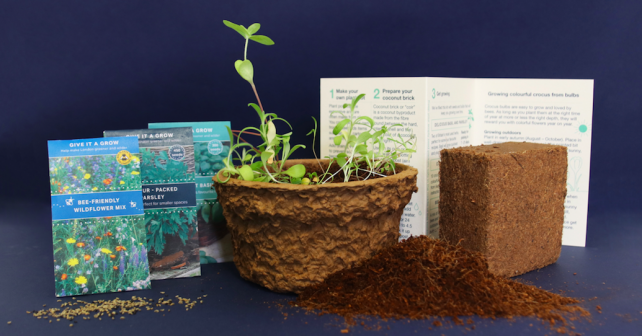 Hands up, if your only outside space is a window sill. Snap! No matter. This latest initiative to make London greener is one where we can all join in.
Environmental charity Hubbub is giving away a whopping 10,000 FREE planting kits as part of its #GiveItAGrow campaign. The aim is to inspire Londoners to improve their outdoor spaces, no matter how small. The kits have been designed to work in even the tiniest of spaces and to encourage pollinating bees and butterflies.
The other good news is that even if you're more disaster-fingered than green the kits have also been thought out with novices in mind. In other words, they should be idiot proof!
Each kit will contain wildlife-friendlly crocus bulbs, quick-growing parsley and basil seeds, compressed organic coir brick plus growing tips printed on recycled coffee cups. Equally perfect for encouraging small children to get in the growing habit.
If you've often thought of sorting out a window-box, but never got round to it this is the push you/we've been waiting for.
But you don't have to plant in a box. Get creative. Share a picture on social media (all details below) and you could win a £100 Starbucks or B & Q voucher.
Sat 14th Sept, 10am – 4pm: 10,000 FREE planting kits
Available at: B & Q: Croydon/Enfield/Hayes/Tottenham/New Malden/Sidcup/Ilford
Starbucks: Islington/Holland Park/Wandsworth/Dulwich/Streatham/Golders Green/Richmond/Bexley Heath/Bethnal Green/Bromley
IKEA: Greenwich
For precise locations and more info click here