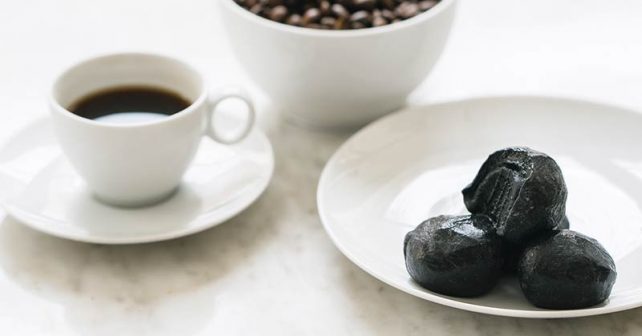 Just when you thought sweet-toothed Londoners couldn't face one more faddish dessert (this pudding-loving publication alone has covered the do-it-yourself Magnum, frozen Icéclair cake, Esquimau Choc Ice Bar and, who could forget, Mermaid Toast) yet another emerges.
Ladies and gentlemen, we give you – *sugary drum roll* – the Black Espresso Shot mochi ice cream made with activated charcoal.
That's right, gelato specialists Little Moons frozen 'treat' – if you want to call it that and, frankly, we're not sure – is the first of its kind in the UK.
How does it get its rich ebony hue? Well, apparently each bite-sized ball is made with raw activated charcoal, extracted from coconut shells, and packed with espresso to give it a chilly caffeine kick.
Little Moons founders, Vivien and Howard Wong say "Charcoal is very much on trend at the moment, and we hope that people will ditch the hot cup of coffee and give our Black Espresso Shot mochi a try to stay cool this summer."
We're not embarrassed to admit we'd no idea charcoal was 'on trend', but hey what do we know?
Not game enough for charcoal? Not to worry, there'll be 15 other flavours to pick from including Mango, Salted Caramel, Chestnut and Dulce De Leche.
Mon 17th July – Sun 10th Sep: Little Moons ice cream mochi bar
Selfridges food hall, 400 Oxford Street, W1A 1AB
Mochi pop (3 ice cream pieces for £4.50)