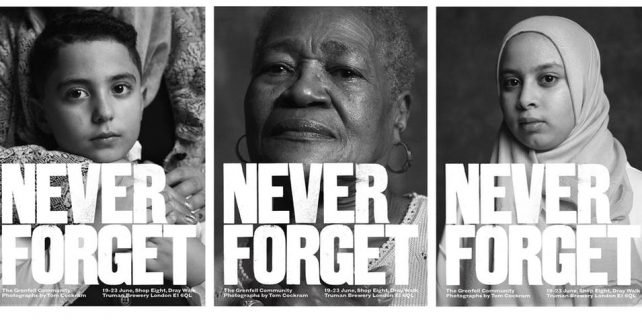 It's been two years since the tragic fire at Grenfell tower block that claimed the lives of 72 people. Now this new FREE  pop-up display is paying tribute to the survivors, the bereaved and the wider community.
Photographer, Tom Cockram has spent months documenting those affected by the fire. It follows the release of his moving video featuring survivors and high profile Londoners speaking out in support including Stormzy and Adele.
The four-day display at Truman Brewery is all part of a campaign to raise awareness for those still facing real challenges in the aftermath of the 2017 tragedy.
The  exhibition will also feature a programme of panel discussions with those from the community as well as live performances.
Thurs 20th – Sun 23rd June: Never Forget Grenfell
Shop 8 Dray Walk, Truman Brewery, E1 6QL
FREE – to register for tickets, programme details and opening times click here
Grenfell United and their supporters are calling on the public to join their campaign for safe housing at: support.grenfellunited.org