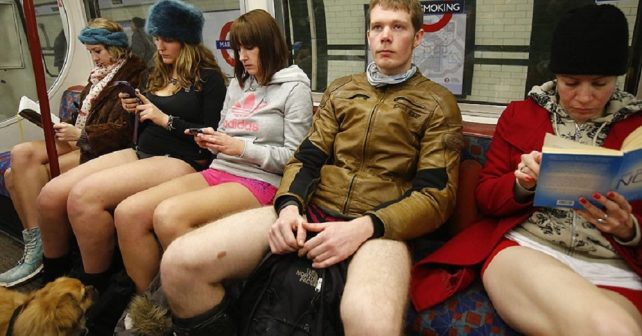 Heading to the tube on Sunday? Be warned, this weekend marks the 8th annual No Trousers Tube Ride in London.
It's that legal grey-area-of-a-day where Londoners deck their kecks and splay their mottled thighs for all train travellers to see.
Why? Well, if you're thinking this is another high impact charity fundraiser, you'd be wrong. The just-for-lolz global event is the brainchild of New York comedy troupe Improv Everywhere who are celebrating their 16th year of winter stripping. Pranksters now take part in dozens of cities across the world.
Any one can join in. Volunteers are meeting at the Pagoda on Newport Place in China Town at 3pm before heading in to the tube to bare all. Participants will then converge for a mannequin challenge and after party at as yet unconfirmed locations. (Keep an eye on the Facebook page for more details)
Organisers say, bring a backpack to store those trousers!
---
Sunday January 8th from 3pm. For more info, visit the No Trousers Tube Ride (With Mannequin Challenge) 2017 FB page:  https://www.facebook.com/events/324767754576365/