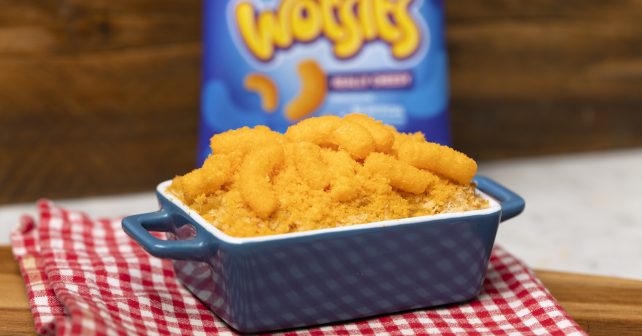 Already "social distancing"and working from home? Then this is a very well-timed lunch option.
A Wotsits Mac n Cheese has been created to celebrate the launch of two new Wotsits flavours, Sizzling Steak and Flamin' Hot.
Think cheesy Wotsits folded into a rich cheddar and gooey mozarella sauce topped off with crunchy breadcrumbs. The dish also includes mini bags of Wotsits so you can add extra crunch to your Mac.
The dish is only going to be available in London and for just two days. It'll be coming from Twisted in Shoredtich and you can order it on Uber Eats to your new desk at home for just £1.50. Frankly, given the wall to wall miserable news this is a temptation we won't be resisting.
Tues 17th & Wed 18th March: Wotsits Mac n Cheese
£1.50 – click here to order
Or, if you prefer they've released the recipe so you could make it yourself.
Ingredients
25g of Wotsits, ground
25g of Wotsits, halved
25g of Wotsits, whole
25g of toasted panko bread crumbs
50g of white onion, finely chopped
10g of garlic, finely chopped
2g of fresh thyme, finely chopped
Salt and pepper to taste
300ml of whole milk
20g of chopped white onion
2 cloves
1 bay leaf
20g of butter
20g of flour
50g of cheddar cheese, grated
30g of mozzarella, grated
40g of Wotsits
300g cooked Macaroni noodles
 Method 
 In a bowl, mix together ground, whole, and halved Wotsits. Set aside
Heat the oil over medium-low heat. Add the finely chopped onions, garlic, and, thyme. Cook until the onions are very soft and translucent. Season with salt.
Heat milk in a pot over medium heat. Add the onion, clove and bay leaf. Let infuse over low for about 10-15 minutes. Then strain.
Heat butter in a pan over medium heat, add flour and whisk until smooth. Cook for 1 minute. Gradually pour in the infused milk and whisk until smooth. Add the confit onions and cooked macaroni followed by the cheese and crushed Wotsits  Stir to combine.
Pour into a prepared baking dish and cover with toasted panko.
Bake at 180ºC for 15 minutes until golden and bubbling.
Remove from the oven and sprinkle with Wotsits mixture made earlier.