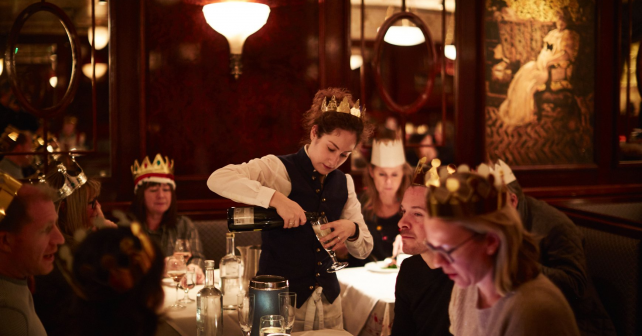 If you're monumentally skint after Christmas, this is the dream. There's FREE three course meals up for grabs and all you've got to do to bag one is show up in a crown!
Yep, you read that right. Coronated diners can enjoy Soho's Brasserie Zedel's 'Menu Formule' on the house That's a set starter, mains and dessert with options including a salad, seared fillet of sea bream and baked vanilla cheesecake for afters. Plus it comes with a freebie glass of house plonk.
It's all to celebrate the French holiday of La Fete Des Rois – aka the Feast of Kings – marking the end of the Christmas festivities for our continental cousins.
Can't make it to Soho? No big deal, you can hot foot it up to Bellanger in Islington for the same regal deal (minus the wine.)
All advanced seats were booked out sharpish. But both eateries are keeping tables back for visitors who show up on the day dressed like real royals. So dig out your best crown (they want to see effort) and be prepared to queue. This is a traditional event and, if our past experience is anything to go by, it's well worth it.
Bon appetit, mes amis!
Sun 6th Jan, 11.30am – 10.30pm: FREE Menu Formule at Brasserie Zedel (three course set meal and a glass of wine)
Brasserie Zedel, 20 Sherwood Street, W1F 7ED
For more info click here
Sun 6th Jan, from 5pm: FREE Menu Formule at Bellanger (three course set meal without wine)
Bellanger, 9 Islington Green, N1 2XH
For more info click here
🇫🇷 👑 🇫🇷
👑 Ts & Cs; Each diner is entitled to only one complimentary Menu Formule on Sunday 6th January at Brasserie Zedel between 11.30am – 10.30pm and at Bellanger from 5pm til close.
🇫🇷 EACH diner in the group must be wearing a crown to qualify for a free meal.
👑 Home made paper crowns or crowns from Christmas crackers don't qualify.
🇫🇷 All meals subject to availability.