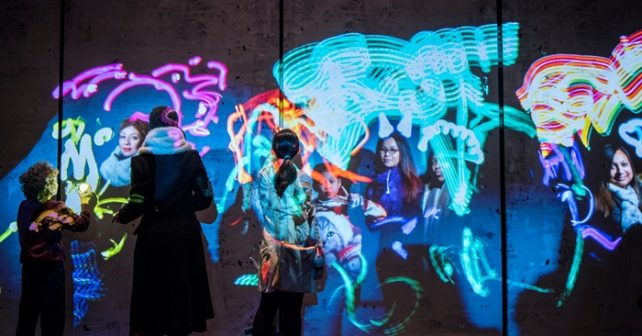 What a spectacular way to brighten up January's ink black night skies. The amazing – and FREE – Winter Lights festival is back for another year.
The nine-day laser and art installation is spread across Canary Wharf and each piece can be enjoyed without spending a single penny. Now in its sixth year the festival includes 25 extraordinary installations.
Highlights this year include the Luma Paint Light Gradditi at the Crossrail Palace Roof Garden (top). Or visitors can check out the stunning Bit.Fall (below) by German artist Julius Popp which creates words using thousands of falling water droplets.
You can even sit checking your phone among the statues checking their phones (meta) at Brit sculptor Gali May Lucas's haunting Absorbed By Light (above). That's an instagram pic screaming to be taken.
Keep an eye out for Kiwi designer Angus Muir's installation of glowing buoys at Westferry Circus (above) or go and seethe eye-catching monolithic Mountain Of Light at Wren Landing (bottom).
We heartily recommend you get along. FREE and stunning.
Thurs 16th – Sat 25th Jan: 4pm to 10pm daily: Winter Lights Festival
Throughout Canary Wharf, E14
FREE – for more info click here