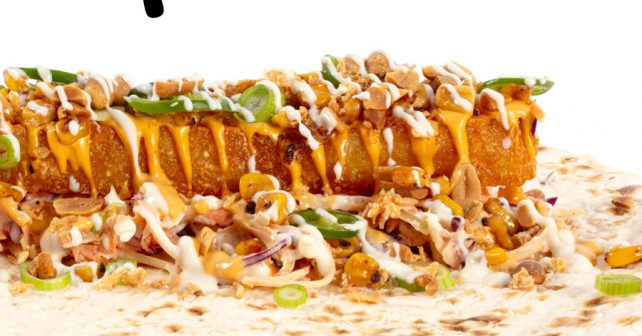 This is one brand launch that is sure to delight London's growing band of vegans. Billed as a revolutionary fast food concept the Bad Vegan arrives in Camden (eat-ins and takeaways) centred around an attractively priced plant-based menu.
It's designed by renowned chef and Bad Vegan co-founder, Tom Kerridge and all their main dishes are 100% plant-based, but unlike other vegan places, food inclusivity is the name of the game so customers also have the option of a non vegan topping or side.
To mark the launch they're welcoming Londoners with hundreds of FREE £9,50 Taternators, a crunchy potato finger wrapped in a soft tortilla with a choice of three vegan and one non- vegan filling. Take your pick out of Cheese and Onion with a toasted sesame salad, pickled jalapeños, Queso sauce and crispy onions or BBQ, Boston style BBQ beans, Queso sauce and crispy shallots or Chipotle, smoky chipotle and fresh lime slaw, roasted peanuts, Queso sauce and fresh chilli.
Alternatively, plump for the non-vegan option of Beef Brisket with chimichurri sauce, garlic and lemon slaw.
Tom Kerridge says, "We wanted to create something that brought out the delicious flavours of seasonal vegetables, whilst ensuring that it was filling and affordable to a large audience. The Taternator is a totally new dish that we're all very excited for Londoners to try this summer."
The Camden site is the first Bad Vegan, but it's probably not the last as the plan is to roll out more across the UK.
Pandemic be gone, FREE launch lunches are back!
Thurs 24th June, 12pm – 2pm: FREE Taternators
The Bad Vegan, Buck Street Market, 198 Camden High St, NW1 8QP
.