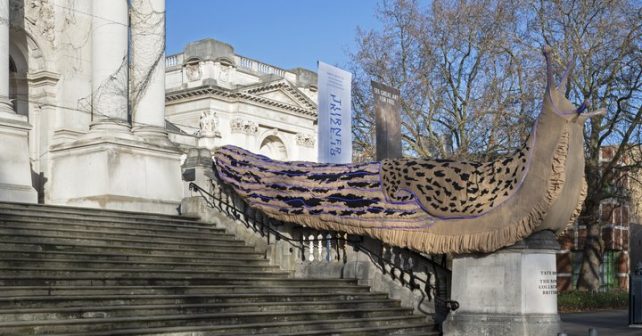 Two monster leopard slugs measuring more than 33 feet have landed at Tate Britain and are leaving sparkly slime all over the facade. All in the name of art!
This year's Christmas commission is by Turner prize nominated artist, Monster Chetynd and the pair of pests sit astride the entrance of the museum. Their gunky (and glittery) trails across the facade spectacularly light up at night with dozens of blue and white LED lights.
Chetwynd was inspired to make the sculptures after watching the molluscs mate on David Attenborough documentary, Life in the Undergrowth. The sculptor is hoping the fun statues can spark conversations about ecology, the environment and clean energy.
Our tip: make a beeline (or should that be slug-line?) for the gallery's FREE Winter Fair on Sat 15th Dec. There'll be live music, arts and craft and a pop-up market.
Now – 28th Feb 2019: Tate Britain's Winter Commission: Monster Chetwynd
Tate Britain, Millbank, SW1P 4RG
FREE museum entry although some exhibitions charge 
For more info click here