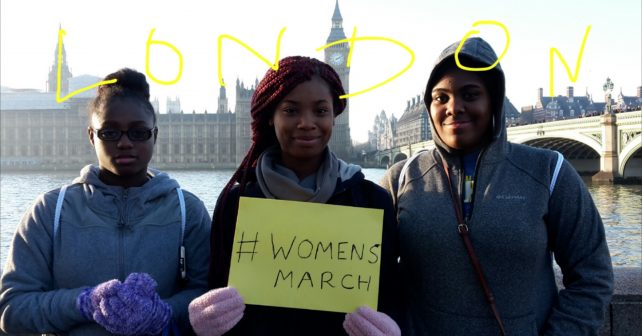 Thousands of Londoners are expected to take to the streets this Saturday for the London Women's March.
Supported by unions as diverse as Amnesty International and the English Collective of Prostitutes, many celebrity supporters are expected to attend, including Sir Ian McKellan, Amanda Abbington, Gillian Anderson and Pixie Geldof.
Organisers say that the event is a consequence of the "the threat to human rights anticipated in the wake of recent political events."
The march kicks off at 12pm in Grosvenor Sq and culminates in a rally at Trafalgar Sq hosted by Sandi Toksvig. She says, "I am proud to be part of the day and to defend our rights to live freely and honestly, without fear of persecution. I am looking forward to showing the world that equality is vital, and it is worth fighting for every day."
Keynote speakers will include Labour MP Stella Creasy and comedian, Sara Pascoe.
It is hoped many men will also take part. Catastrophe actor, Rob Delaney who plans to go says, "I support Women's March London because I live on Planet Earth where women outnumber men. Since I love women and I love Earth, it's really a no-brainer."
"And how the hell do I not benefit when women are safer, paid the same wages as men for the same work, and not punished for having more complex reproductive systems than me?"
"I read books by women. I see films made by women. My MP is a woman and so is the PM."
Part of a series of global events, marches are also planned for 62 cities in 32 countries. The largest is expected in Washington and – as if anyone needs reminding – will take place just one day after man-child and obsessive tweeter, whoops, President Elect, Donald Trump's inauguration.
January 21st, 12pm. The Women's March.
Meet outside the US Embassy, Grosvenor Sq for the march. Trafalgar Square rally from 2pm.