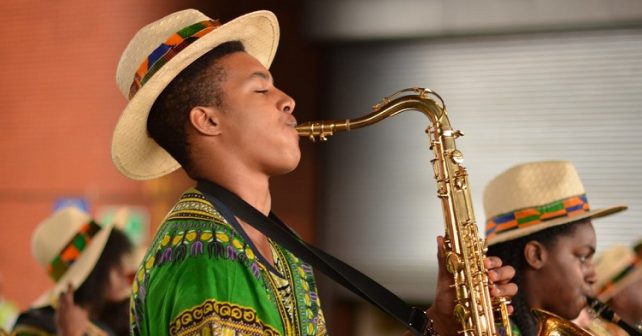 The flowers are starting to bloom, the trees are turning green and the London weather is….well, what is it? One minute sunshine, the next pouring down. Top tip: take a brolly, whatever you're doing.
=====
Celebrate 50 years of the iconic Southbank Centre with a look back at its past – as well as its future – at the FREE Concrete Dreams Weekend.
There'll be loads going on at the two-day gala. Look out for classical Indian dance performances, a fascinating talk on 1960s architecture, classical music recitals plus an exuberant carnival performance along the South Bank from Kinetika Bloco (above).
Visitors will also have the chance to pour over the Southbank archives and check out the venue's rich artistic history.
Fri 27th – Sun 29th April: Concrete Dreams weekend
Queen Elizabeth Hall, Southbank Centre, SE1 8XX
FREE – For more info click here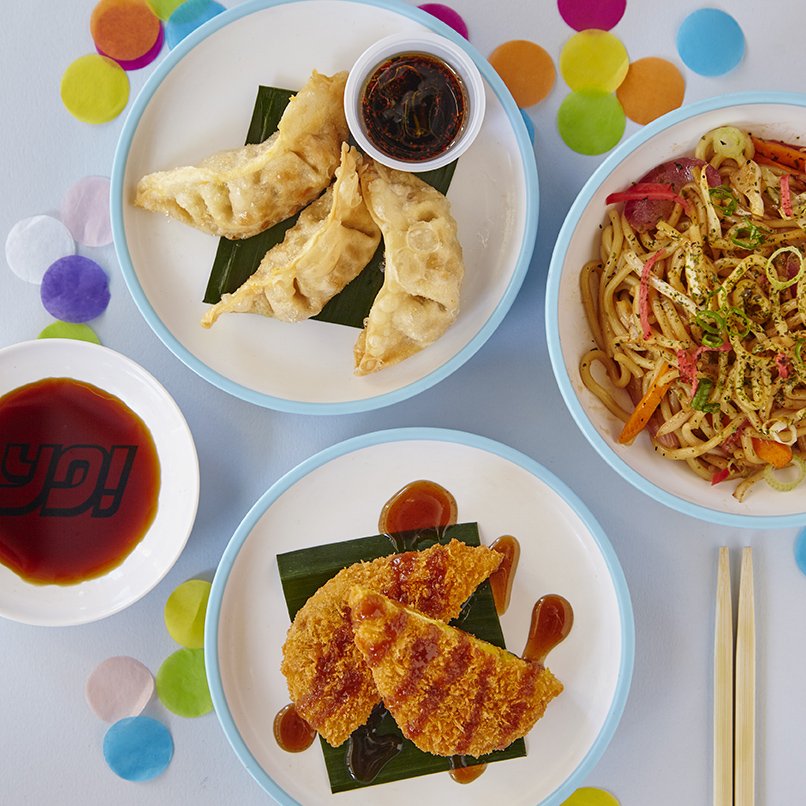 There has to be a very good reason for us to recommend you visit a train station over the weekend – aside from the obvious –  but this is a good incentive.
Deliveroo's hosting a Tasting Rooms with a host of well known restaurant names. And, we have it on good authority, they're going to be giving FREEBIES. Think Meat Liquor: wings, mac and cheese bites and burgers, Byron oreo milk shakes & Flex burgers, pizza from: Prezzo, Zia Lucia & Franco Manca and Sushi from YO!
Sat 28/Sun 29th, 9am – 7pm: FREE food, Deliveroo Tasting Rooms 
Kings X station, Euston Road, London, N1 9AL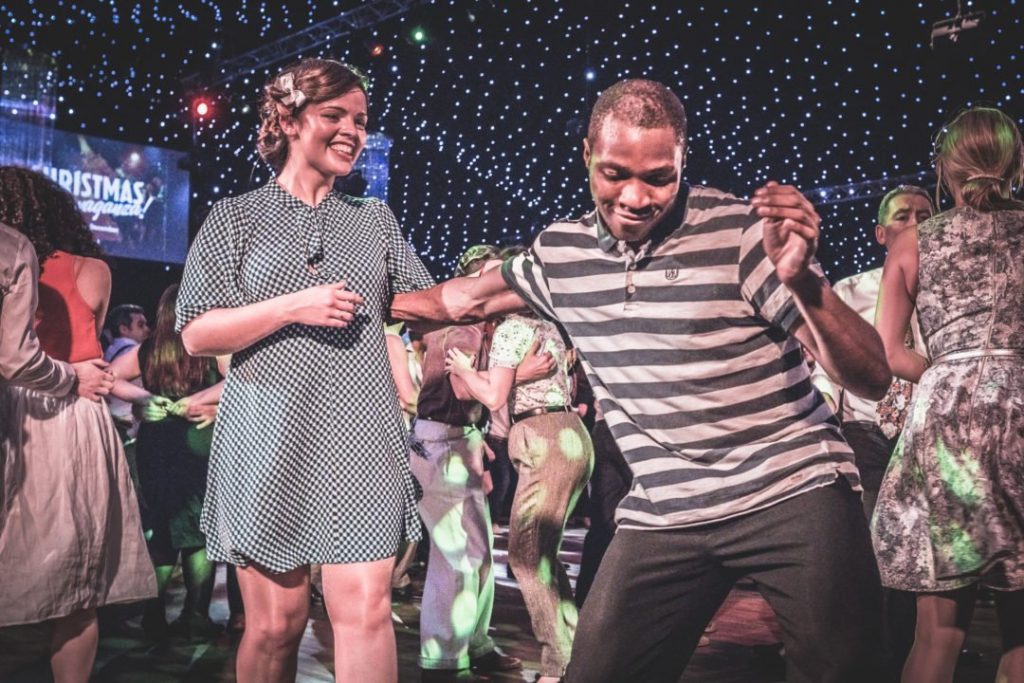 For all you babies who won't be put in the corner – and wannabe Patrick Swayzes – hot foot it to Camden for a FREE afternoon of swing dancing.
Swing Patrol's Swing Pit at the newly renovated Unicorn will be offering an hour-long beginner taster class from 5.30pm and then social dancing until 9.30pm.
Sun 29th April, 5.30pm – 9.30pm: FREE Swing Patrol's Swing Pit
The Unicorn, 227 Camden Road, NW1 9AA
FREE – just show up. For more info click here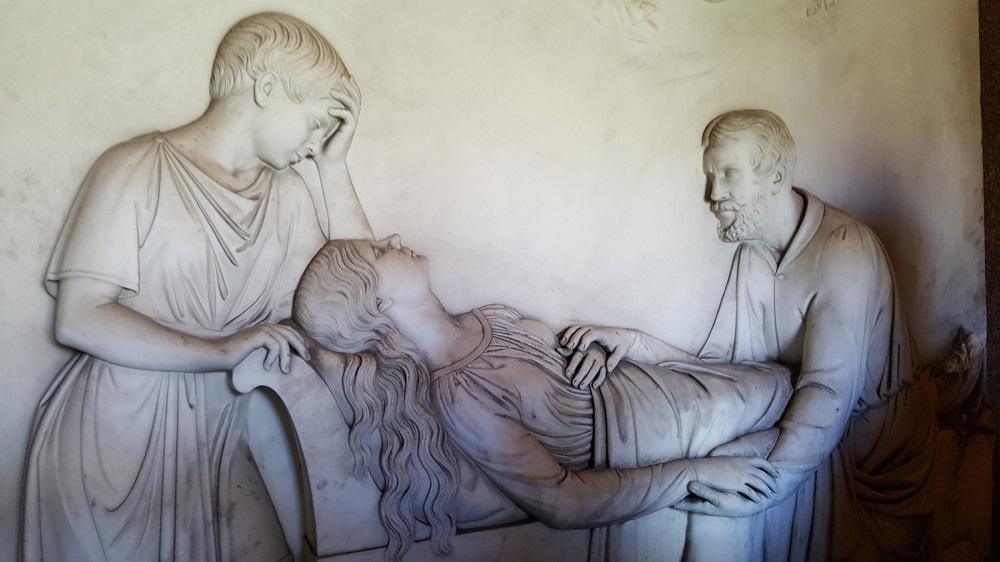 Head over to Twickenham for a day with a difference. The Plant Sale For Wildlife is giving visitors the chance to snap up bargains for their garden no matter how big or titchy it is.
Visitors can also poke their heads inside the fascinating Kilmorey Mausoleum with a guided tour. There'll also be a chance to meet a bee-keeper and some of his buzzing friends and delicious homemade cake.  If that's not enough the first 50 visitors also get a FREE pack of 'bee friendly wildflower seeds.'
Sun 29th April, 9am – 3pm: Kilmorey Mausoleum's tours and Plant Sale for Wildlife
Kilmorey Mausoleum's wildlife garden, 275 St Margarets Road, TW1 1PN
£2 entry on the door. (Includes refreshments) For more info click here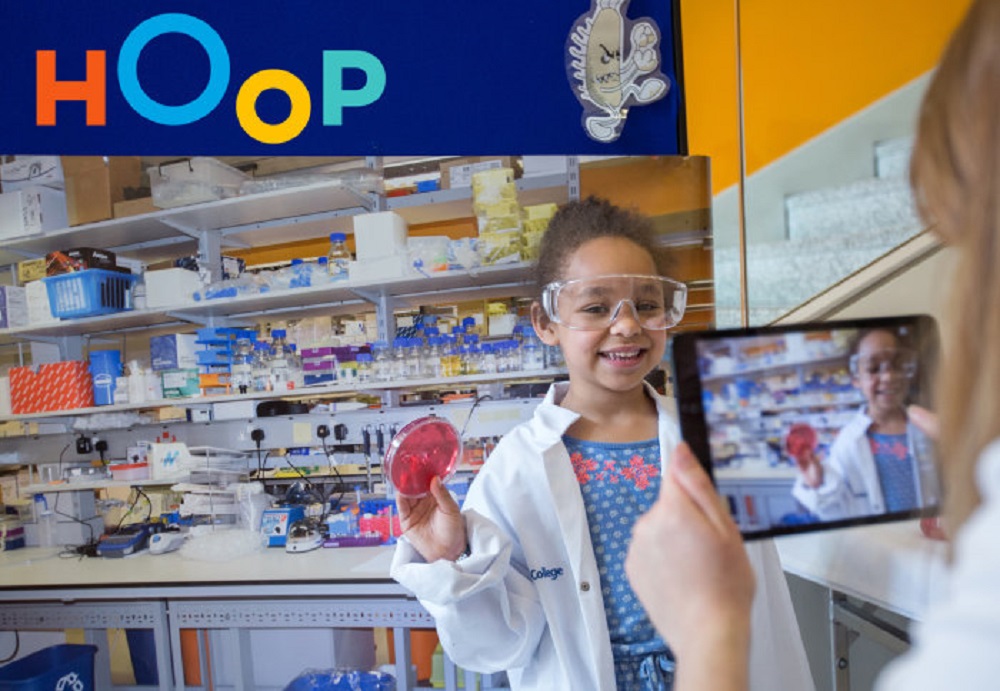 Kensington is home this weekend to the Imperial Festival – a totally FREE two days mixing science, live music, kids' workshops and new technology.
There'll be more than 150 exhibits out on show this year spread across different family-friendly event zones (including the 'Hands On Zone', suitable for toddlers-to-twelve-year-olds.) Other highlights include your chance to compose music using just your brain waves and body controlled computer games.
Visitors can also go behind the scenes and learn about the fascinating latest scientific work being done at the uni.
Sat 28th & Sun 29th Apr, 12pm – 6pm: Imperial Festival 2018 
Imperial College London, South Kensington Campus, SW7 2AZ
FREE – just show up. For a full list of what's on and all other info click here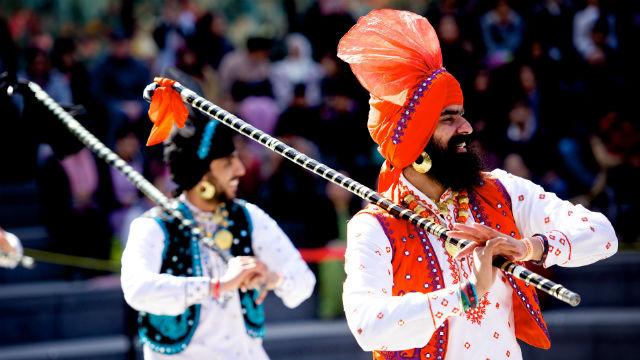 Help London's Sikh community celebrate the religious festival of Vaisakhi in Trafalgar Sq.
There'll be onstage entertainment and fun stuff for all the family including arts and crafts and  the opportunity to try a turban. Expect jewellery, food and clothes stalls, mocktails and FREE Indian tea.
Sat 28th April, 1-6pm: Vaisakhi 2018
Trafalgar Sq, Westminster, WC2N 5DN
FREE – For more info click here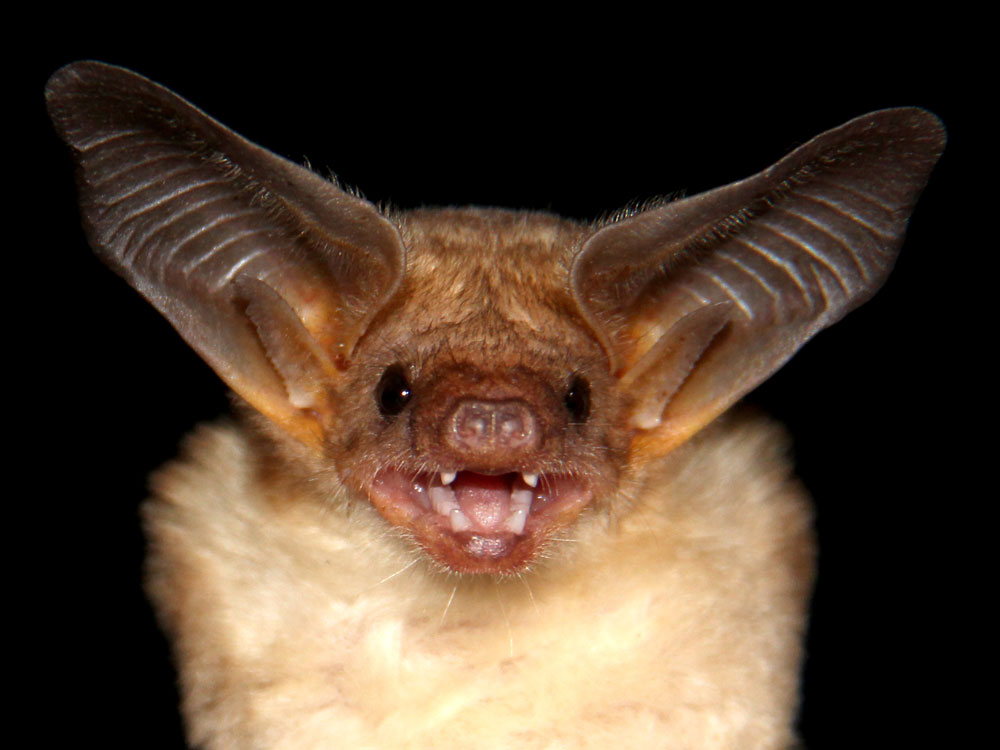 This is a marmite event – you'll either love it or hate it. Spend an evening close to urban wildlife, specifically spotting winged-mammals above your head at the  Guided bat walk for the City Nature Challenge in Kensington Gardens.
The FREE guided walk will cast light on the fascinating world of bats and how they live, eat, hunt and fly around us. Remember to wrap up warm and take a torch to spot 'em!
Sat 28th Apr, 8pm – 9.30pm: Guided bat walk for the City Nature Challenge
Meet at Pump House in the Italian Gardens, Kensington Gardens W2 2UH
FREE – To register and for more info click here