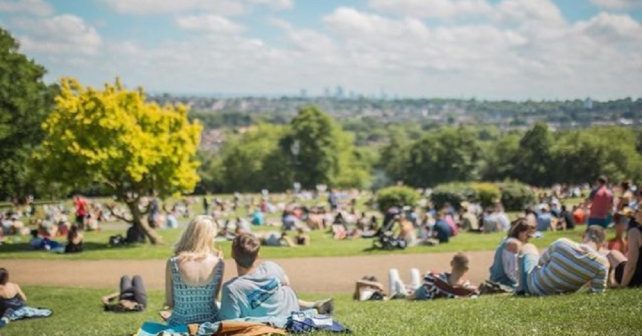 The rain's started. We're not gonna lie, it's a 'thank God' from us. It's going to feel a bit fresher than it has in weeks but, no matter, there's still some top skint fun in the capital.
==========
Head north for a weekend of fab street food, craft beers and great music at StrEATlife at Ally Pally.
It's FREE to get in and there'll be all different things to try, chomp and buy. Vendor highlights this year include Vietnamese favourites Le Bao, posh fried chicken from Mother Clucker plus Mexican snacks from Los Churros Amigos.
There'll also be cocktail vans and a Pimm's station and watch out for a DJ set from master mixers the Scratch Perverts. In short; what's not to love?
Sat 28th & Sun 29th July, Sat, 12pm – 10pm / Sun, 12pm – 9pm, StrEATlife 
Alexandra Palace, N22 7AY
FREE entry – For more info click here
Dust off those Stetsons, take your pardner by the hand and get set for a good ol' weekend of line dancing and country music at Nashville Meets London in Canary Wharf.
The FREE outdoor festival features performances from some of the best in the business from the UK and across the pond including Jade Helliwell, Sam Palladio and country pin-up Dylan Schneider (above).
Sat 28th & Sun 29th July: Nashville Meets London
Canada Square, Canary Wharf, E14 5AH
FREE – just show up. For more info click here
Swing by the Strand for a back-to-back weekend of FREE exhilarating acrobatics, juggling, dance and music at The Circus Sampler at Somerset House.
Highlights include a gravity-defying Chinese Pole and tight wire show. Visitors will also be able to watch hoola hoop acrobat – and twelve times Guinness World Record holder – Marawa the Amazing and the Majorettes plus you'll be able to learn how to spin a hoop yourself!
Sat 28th & Sun 29th July and Sat 4th & Sun 5th Aug, 12pm – 5pm (each day): Circus Sampler
The Edmond J. Safra Fountain Court, Somerset House, Strand, WC2R 1LA
FREE – just show up. For more info click here
Take a FREE walking tour of the architectural and design wonders of London's financial district.
Engineering the City of London  is run by volunteers from Institution of Civil Engineers and takes in sites within the Square Mile. Discover how architects and designers have created the amazing landscape we enjoy in the heart of the capital.
Sun 29th July, 2pm – 4.30pm: Engineering the City of London
Leacing from: Guildhall, Gresham Street, EC2V 7HH
FREE – to reserve a spot and for more info click here