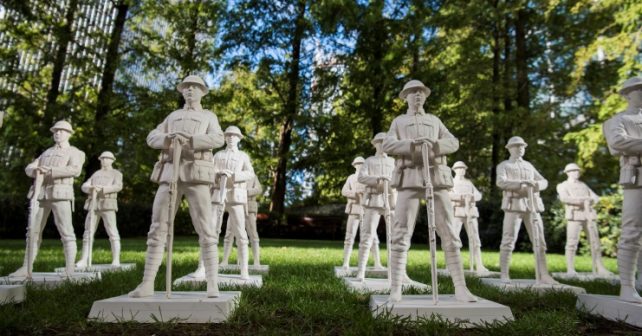 It's going to be a crisp couple of days across the capital this weekend with Remembrance Sunday the day when we remember the fallen. Here's our guide to the best of what's on.
========
London will fall silent as the country marks 100 since the Armistice was signed and the guns fell silent on the Western Front. One FREE option includes the incredibly moving Remembrance Art Trail in Canary Wharf.
The 11-piece collection from artist Mark Humphrey includes life sized soldiers on parade, a floating poppy capsule and a huge propeller with blades daubed in red. The Trail is in partnership with the The Royal British Legion and remains open to the public until Sunday.
Now – Sun 11th Nov, Remembrance Art Trail:
Throughout Canary Wharf, E14
FREE – For more info click here 
Shakespeare is getting a 21st Century makeover in this one-off moving and extraordinary performance from ex-soldiers at The Globe.
Shakespeare and Remembrance focuses on today's military personnel and their families, how we as a society view military combat and how modern warfare touches all of our lives. Cast will be made up of members of army veterans from the Soldiers' Arts Academy.
Sun 11th Nov, 7pm, (Tickets from £10 / children £7) Shakespeare and Remembrance
Shakespeare's Globe, 21 New Globe Walk, Bankside, SE1 9DT
To book and for all other info click here
Get ready for an afternoon of dripping gold carriages and extraordinary uniforms at The Lord Mayor's Show.
Part medieval carnival, renaissance spectacle and military display, the parade stretches back eight centuries and celebrates the capital's new Lord Mayor marching through the streets to swear loyalty to the Crown. Guests can watch the gold carriage on a spectator lined route around St Pauls, Blackfriars or Mansion House.
For kids there'll be a treasure hunt to enjoy plus families can check out the FREE Festival Zones in Paternoster Square and Bloomberg Arcade with day long funfair rides, street food, live music, entertainment and arts and craft.
Sat 10th Nov, from 11am: Lord Mayor's Show
FREE – For procession route and all other info click here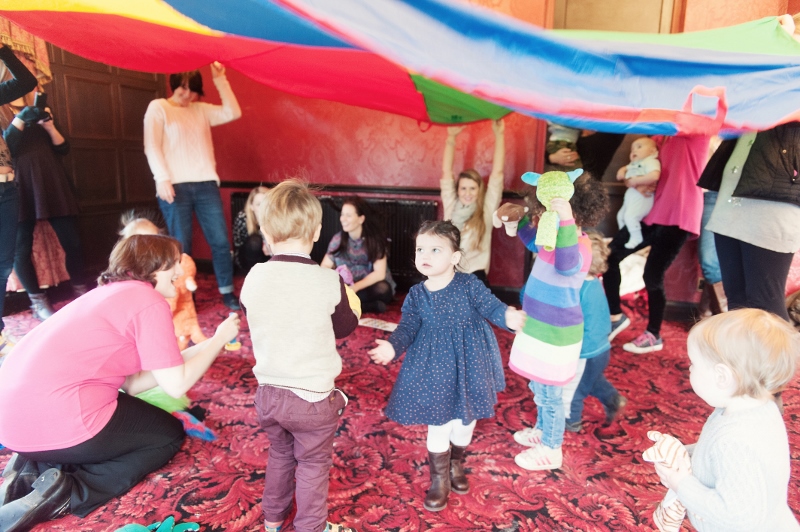 For something completely different – and if you're looking to keep little ones entertained – head over to Camden where the Jewish Museum London is putting on a morning of Caterpillar Music.
Tots can enjoy interactive music and movement sessions, puppetry, singing and dancing. It's all FREE, but make sure you book in advance.
Sun 11th Nov, 10.30am – 12.15am: Caterpillar Music
10.30am – 11.15am (18 months – 5 yrs) / 11.30am – 12.15pm (0-3 years)
Jewish Museum London, Raymond Burton House, 129-131 Albert Street, NW1 7NB
FREE (but book in advance). For more info – and to reserve a spot – click here
Need more inspiration?
Check out our November Skint exclusive 50% off deal at these two Shoreditch restaurants – and that includes weekends!
It's your last chance to see the Weeping Window of poppies and the spectacular illuminated flames at The Tower of London.
Go ice skating on the rooftop rink in Oxford St.