Whoop, it's the weekend. The weather's a beauty, the sun's out and there's loads on so get out and about! Here's our favourite hotspots (literally) for the next couple of days.
====
Get down to a weekend of FREE live music, spectacular dance routines and one giant singalong in Trafalgar Square; West End Live is back.
The two day gala features a host of your favourite musicals played out on the specially constructed stage. Highlights this year include excerpts from Wicked, Chicago, Mama Mia and Les Mis. There'll be street food and drinks plus kids' activities elsewhere in the Square. It's normally mobbed so be prepared to queue.
Sat 22nd & Sun 23rd June (Sat, 11am – 5pm / Sun 12pm – 5pm): West End Live!
Trafalgar Square, WC2N 5DN
FREE –  For a full list of what's on click here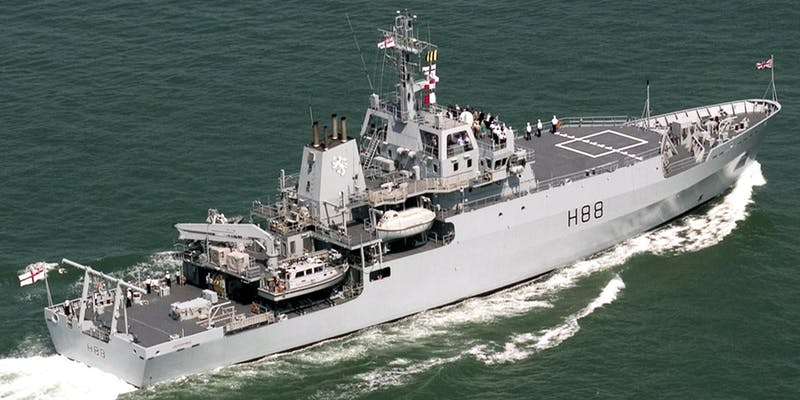 Permission to step aboard for a FREE tour of warship HMS Enterprise! The naval vessel – that's still operational – has been up to all sorts over the past few years including detecting mines in the Arabian Gulf, helping tackle human traffickers and on patrol around the Falklands.
The huge ship will be moored at Marsh Wall for tour slots. Make sure you're on time for your window.
Sat 22nd June, tour slots throughout the day from 10am – 4pm: Tours of HMS Enterprise
Thames Quay opposite South Quay DLR Station, Marsh Wall, E14
FREE – To reserve a space click here
Get ready to enjoy the longest day of the year with live music, stunning stage performances and kids workshops at the FREE Midsummer Festival. Highlights at the Canary Wharf weekender include tunes from London-based R&B star Sully Gravity, DJ duo The Roustabouts and singer songwriter Tom Lukas.
Kids fun includes a Saturday magic show and a drop-in circus skills workshop. They're all gratis too.
Fri 21st & Sat 22nd June (Fri, 12pm – 10pm / Sat, 12pm – 9pm): Midsummer Festival 
Canada Square Park, Canary Wharf, E14
FREE – For a full list of what's on click here
You know summer's here as there's no no end of festivals across the capital. If you're north, grab the kids and head to Islington for the Cally Festival.
There'll be live music, art, workshops and loads of street food too. Watch out for a Calm Zone to chill out, a funfair, colourful parade and a world music stage.
Still want more? There'll be street entertainers to take in, kids story telling plus a chance to take part in a penalty shoot out in the Action Zone. Result!
Sun 23rd June, 12pm – 6pm: The Cally Festival
273 – 285 Caledonian Road, N1
FREE – for a full list of what's on click here
Need more inspiration?
The Greenwich and Docklands International Festival kicks off Friday night.
Check out the FREE Never Forget Grenfell display.
Visit this gorgeous new Manolo Blahnik exhibtion.
Enjoy tasty (and cheapish) Indian tidbits at new restaurant Ooty Station.
Both little and big kids will love this FREE huge moon display.