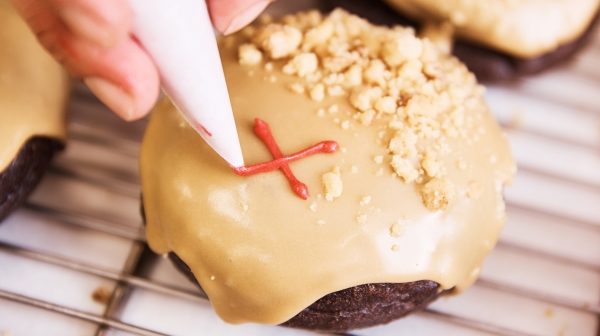 You know it's the end of summer when the free doughnut promos begin. Not that we're complaining. Well, certainly not about the doughnuts! And these boozy ones do look particularly good.
They're the result of a collaboration between Maker's Mark Bourbon and Crosstown. Think a bourbon custard and a butterscotch glaze topped with a red chocolate cross. They'll be available to buy at Crosstown until the end of October, but to mark the launch they're dishing up 200 FREEBIES for one day.
Conveniently, the giveaway kicks off at lunchtime so make a quick dash and guarantee your doughnut for afternoon tea!
Thurs 26th Sept, from 1pm:  200 FREE doughnuts
Crosstown Doughnuts, 4 Broadwick St, Soho, W1F ODA