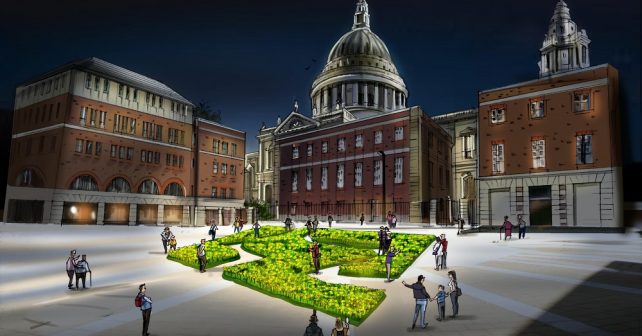 A beautiful new immersive art installation is springing up next month to mark the start of Marie Curie's Great Daffodil Appeal 2017.
Comprised of hundreds of man-made daffodils, The Garden Of Light opens in Paternoster Square on March 1st.
FREE to visit, the outdoor horticultural design will feature precisely 2,100 daffodils; one to represent each and every Marie Curie nurse. Each plant will be illuminated in the dark and members of the public will be able to criss-cross the pathways for a closer look at the flowers.
There'll be audio stories from those who have benefited from the charity's end-of-life care as well as an opportunity to post messages for loved ones on the 'Visitors Wall'. And, of course, the charity hopes visitors make a small donation to buy one of their daffodil pins.
Dee Sissons, director of nursing at Marie Curie, says, "The garden is a place for people to take a moment to contemplate and remember their own loved ones. We hope visitors enjoy it and are inspired to donate and wear their daffodil."

March 1st – 12th (Open 24 hours a day)
Garden Of Light – Paternoster Square, London, EC4.
The charity is also looking for appeal collection volunteers.