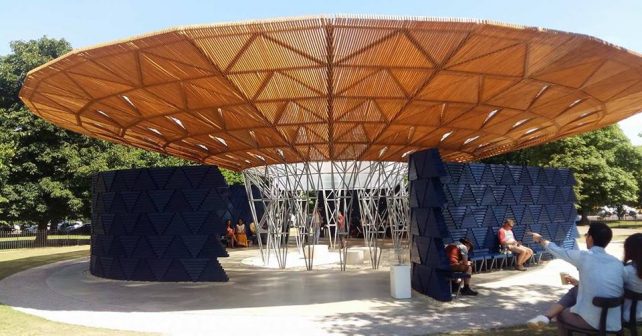 The Serpentine Pavilion always delivers a bold artistic experience and 2017 is no exception.
This year's design is the brainchild of African architect Diébédo Francis Kéré, principal architect at Kéré Architecture in Berlin. Kéré has brought Burkino Faso to Kensington: a tree used as a meeting place in his native village of Gando is the inspiration behind the pavilion.
Within the structure's curves there are tessellating timber triangles, and the roof – like a rainforest canopy – appears to hover in the air. British summer weather is notoriously unreliable, but Kéré has taken that into consideration; the central funnel cleverly transforms into a waterfall during a downpour.
Inside the shimmering blue walls, the quiet's only occasionally disturbed by the coffee machine of the nearby cafe and visitors can forget they're in one of the world's busiest cities. At night, the Pavilion emits a warm yellow glow becoming a shining beacon in Hyde Park.
Best of all, the Serpentine's FREE exhibitions make art accessible to all and the Serpentine Galleries Park Nights –   an "annual series of experimental and interdisciplinary encounters" – (lectures and performances) are held at the Pavilion throughout the summer.
Now – October 8th, 2017
Serpentine Gallery, Kensington Gardens, W2 3XA
FREE entry
Serpentine Galleries Park Nights  – September 22nd, from £5.