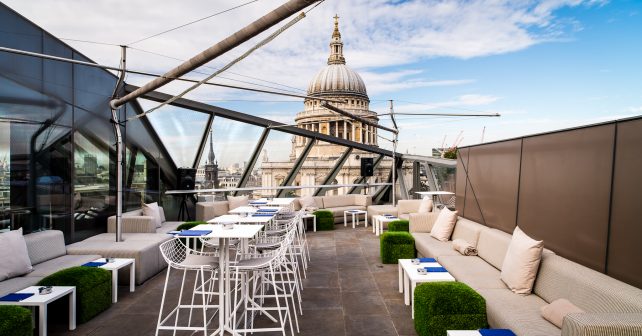 The leaves are turning flaming gold and you may be donning a light jacket once more. But we're not giving up the ghost just yet; it's still light at night and that clock still proudly proclaims British Summer Time!
So we at Skint are determined to squeeze every bit of love and life out of the warmer weeks before we bed in for winter. Here's our top stops for those who fancy a spot of al fresco dining and boozing. Bottoms up!
======
What about this for a view! The Madison Terrace Bar & Lounge (pic above) in the shadow of the giant dome at St Paul's is the perfect place for a date night or catch up. There's plenty of wine options at about the £8 mark and should it turn nippy there's heaters.
The place is popular with tourists and City types, but no matter how fat your wallet everyone can drink in the stunning sights for free.
Open year round, opening times vary. Madison Restaurant & Rooftop Terrace
One New Change, EC4M 9AF
Smart casual dress code. No flip flops!
For more info click here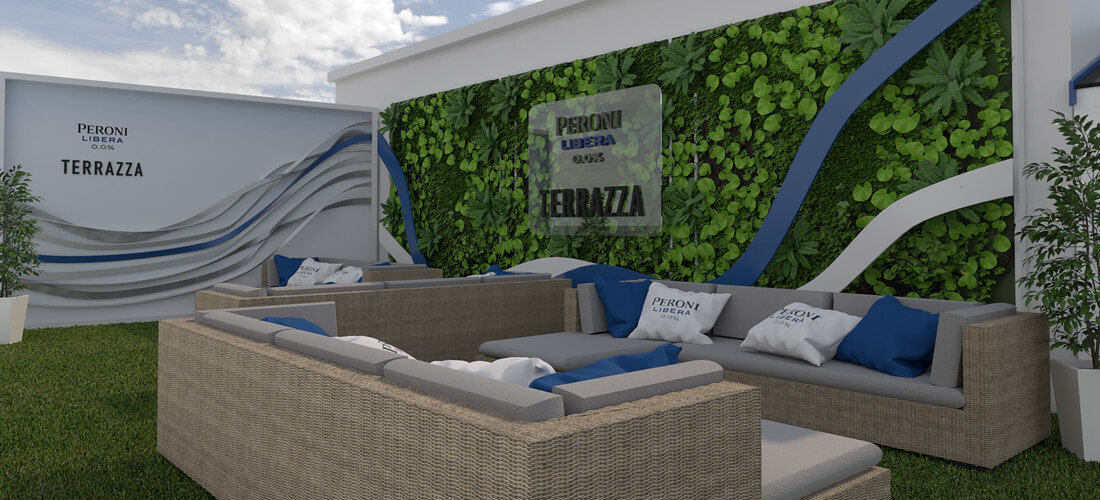 This #soberseptember why not hit up the fab – and alcohol-free – Peroni pop up high above Oxford Street!
Peroni Libera Terrazza is part of San Carlo's al fresco dining area and only accessible via a special lift at Selfridges. The dining spot is celebrating the Italian beer brand's new 0% lager so look out for delicious and specially curated aperitivo snacks to go with it. Oh, plus there's booze-free cocktails too. (All at a Skint friendly tenner or less.)
If you're in need of some harder stuff, fret not; you can still order some alcohol from the bar next door. So it's win-win!
Now until 27th Oct, 2019, open seven days a week: Peroni Libera Terrazza at Alto, by San Carlo, Selfridges.
400 Oxford Street, W1A 1AB. Access to the Peroni Libera Terrazza is available via the dedicated express lift
For more info click here

Bus down to Bermondsey where two new al fresco bars will be serving up the sauce all summer!
Tanqueray Terrace – set within a garlanded pergola garden in Vinegar Yard – will be dishing out refreshing G&Ts day and night while next door's Courtyard Bar will have more of a craft beer swilling vibe.
If you need a sugar hit, Secret Nicky's nearby will be serving up frozen custard treats.
Open year round, Tanqueray Terrace and Courtyard Bar
Vinegar Yard, SE1 3QU
For more info click here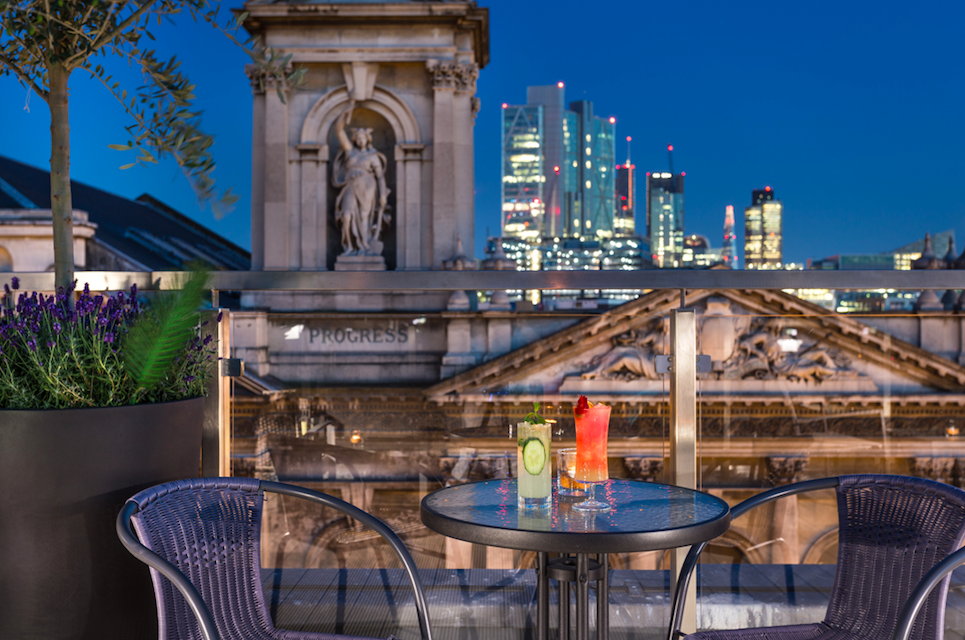 If your social life revolves around east London why not try hipster hangout at Upper 5th in Shoreditch.
The rooftop bar at the top of the converted courthouse has panoramic views, trendy tunes and space for more than 100 punters so if you time it well you're guaranteed a seat. (Or a space on the comfy day bed!) And make sure you check out the old court room – now a restaurant – on the way out; it's a brilliantly preserved beaut.
Mon – Sun, until 11pm: Upper 5th
Courthouse Hotel Shoreditch, 335 – 337 Old Street, EC1V 9LL
For more info click here
Head to Cally Road for a break from the bustle of King's Cross at the lovely Scottish Stores roof garden.
The former strip club (it's come a long way since its refurb!) is just a whisky dram's throw from the train station and is a lovely quiet, open air spot. The pub itself is more than a century old, not too pricey with a massive revolving beer list. Winning all round!
Open daily, The Scottish Stores, 2 – 4 Caledonian Road, N19DT
For more info click here
If you're Soho bound, make a beeline for the swish Aqua Spirit on Regent Street. The classy bar does plenty of Skint-friendly priced wines and beers (all sub £10) plus tasty Japanese snacks to soak them up.
There's plenty of comfy seating around the decked terrace so you can knock back your booze in comfort. Best of all the sun trap is open til 1am Monday to Saturday.
Open year round: Mon – Sat, 12pm – 1am / Sun, 12pm – 8pm: Aqua Spirit
240 Regent Street (Entrance 30 Argyll Street), W1B 3BR
For more info click here
Image Credit: Frank's Cafe, by Jan Vrhovnik
And where would we all be without south London saviour Frank's Cafe.
The popular Peckham rooftop is high up in a disused car park and has been watering young and beautiful types for a decade. Staff serve up decently priced bar snacks and grog – Negronis are £7, Pimm's, £6.50 – the views are ah-maze-ing and it's packed full of giggly Tinder daters. And we at Skint mag love it!
Now – 21st Sept, Tues – Sun until 11pm: Frank's Cafe
Floors 7 – 10, Peckham Multi-Storey Car Park, 95a Rye Lane, SE15 4TG
For more info click here