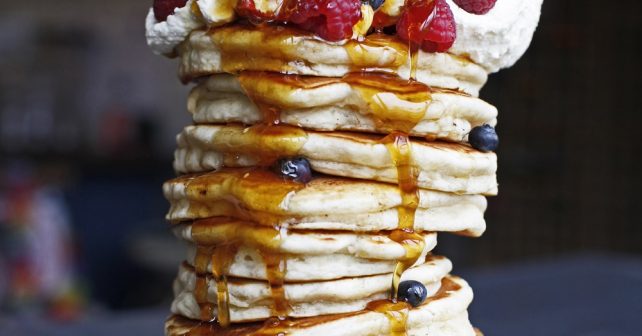 Calling all guzzlers! It's your time to shine! It really is a case of the greedier the better this Shrove Tuesday as The Breakfast Club is bringing back its Pancake Challenge, and it's all to raise money for charity.
The gauntlet thrown down is simple: Diners have to munch through a stack of 12 tasty pancakes in 12 minutes or under to win. If you're successful, the meal is on them. But if you lose (perish the thought), you'll pay the full price of £20 and the restaurant will donate profits to local charities. The chain is hoping to give away more than last year when it raised more than £2,000!
Anyone can enter and there's no need to book. Just make straight for any of the nine Breakfast Club cafes throughout London on Tuesday to take part. Succeed or fail, all entrants get a FREE keyring for taking part.

Don't fancy your chances?  No problem. The cafes will also be serving up a variety of  pancake classics plus a selection of limited edition specials.

Shrove Tuesday, February 28th, The Pancake Challenge at the Breakfast Club.
For a list of locations, click here