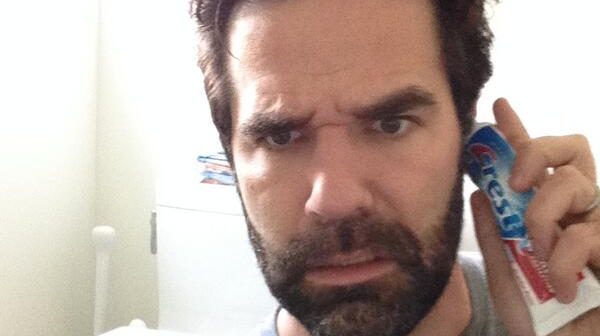 5 MINUTES WITH ROB DELANEY
Catastrophe star, comedian Rob Delaney, 40 lives in London with his wife and their three young sons, 6,4 and 2. His forthcoming stand up show, More Meat, opens at the Leicester Square Theatre on Friday September 22nd.
First things first, it can't be ignored that you've been rocking a 70s Burt Reynolds moustache lately………er, why?
I just genuinely like having one. I think moustaches are nice and I'm tired of them being considered "ironic." My moustache is genuine, like my passion for Scottish midwives.
Sorry, but irony is the only excuse this Brit will accept!……Now time was your twitter feed was all about the jokes, these days it's intensely political. Did you worry about 'coming out' as such an outspoken Trump critic? 
I couldn't give a shit. There's a white supremacist in the White House who, in addition to being a bigot, is also trying to destroy American healthcare. So he, his family, and anyone peripherally associated with him can kiss my ass.
On a scale of 1-10 how much of a lunatic do you think Trump is? 
Maybe he's a 9? There's space between him and Hitler or Fred West, but since he's president, his terrible – and they're all terrible – decisions have massive consequences.
I'd love it if he were impeached but rather than just sit and wish it's much more important to canvas, get people registered to vote and protest.
You've been in the UK for three years now, how does Brit humour differ from the Yanks? 
There's no difference in the quality of professional British comedians and American comedians. Once you're a pro, you better be funny in either place, but your average British citizen is funnier than your average American citizen.
You got a theory as to why?
I believe it's because the population density in the U.K. is greater so you have to be funnier to lubricate social situations – and so you don't murder all these people around you. Also bombs fell on the U.K. within the lifetimes of people still alive, so Brits have more visceral knowledge that terrible things could happen at any moment.
When something bad happens to American people are like "What! How dare a bad thing happen to me?" Whereas when a bad thing happens to a Brit, they're like "Of course." This leads to a funnier populace.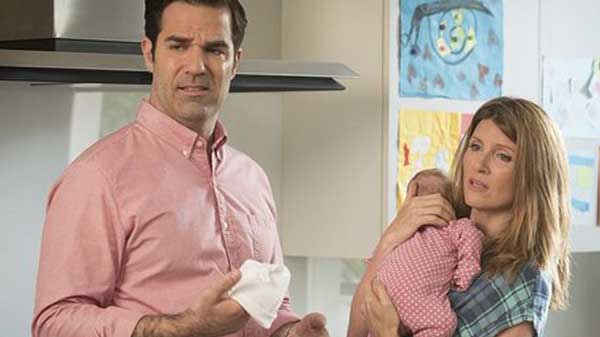 Rob and Sharon Horgan co-write & star in Catastrophe 
If people only know you from Catastrophe, what can they expect from More Meat?
It's just me talking. I'm older, and more ravaged by life now. I have three kids and I've been with my wife for 13 years so I'm just a shell of a man! But I've also got a reasonably battle-tested philosophy that works for me and it's rooted in humour, my favourite defence mechanism.
Success in entertainment found me a little later so I'm still astonished anyone comes to see me live.
Favourite three British things?
The NHS. The UK takes care of its citizens' health as a true priority. This doesn't happen in the US and I could not love the NHS more. Maybe a little more if the Tories properly funded it. (Rob is speaking at the RCN #scrapthecap rally in Parliament Sq on Wed September 6th).
Double decker buses. Even though I'm 40 I still get excited to ride up top.
The BBC and Channel 4. Again, culture is a national priority; you won't find that on the same scale in the US. And what the hell is a culture that doesn't prioritize its citizens' health and its art? A turd culture, that's what!
And the worse aspects? 
Lack of daylight half the year. I don't mind the rain, but the sun should not set at 2:30pm for half the year. That's outrageous and must be fixed.
I also miss animals and nature that can instantly kill you. A lot of British wildlife is "pleasant." In America there are more bears and snakes that can just end your life while you're taking out the rubbish and that's important to have.
What's top of your skint London list?
The nature reserves are great. There's Gillespie near Finsbury Park and a lovely one, Camley St Natural Park, near King's Cross. These are wild places in the middle of London that are fun to go get lost in and pretend you're an old prospector or an elderly parent who's been abandoned by their shitty children.
Catastrophe fans, here's the good news, we're giving away not one but two pairs of tickets to one of Rob's London shows. Just enter below.
THE LOWDOWN
🎟️The two winners will each receive a pair of tickets to More Meat on Wed September 27th, 9.30pm. (This date only)
🎟️Travel to the theatre is not included.
🎟️Closing date is 10pm September 10th and late entries will not be accepted. Our decision is final.
🎟️Entering this competition will automatically sign you up to the Skint London newsletter.
🎟️For more information on the show/to book click here.