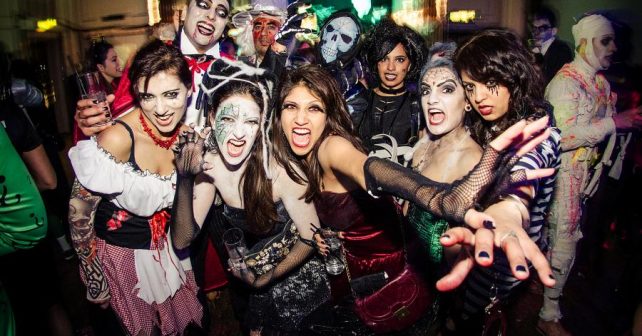 Take a large helping of spine-chilling costumes and add generous spoonfuls of blood curdling screams – of laughter – and what have you got?
The perfect spell for a brilliant Halloween night, of course!
Billed as London's first ever fancy dress comedy night and party, Ha's & Stripes will be turning American themed restaurant Boondocks into a hellish Halloween sight on Saturday October 28th.
Disclaimer: Skint's very own Feature's Editor David Lewis will be hosting and he'll be joined by a handful of hilarious comics for a night of petrifying puns and fearsome funnies. There's prizes for best costume – including dinner for two for the overall winners – Halloween beer pong, apple bobbing, jokes, fun and laughter all set to a classic Halloween soundtrack.
And what's more, we're giving away a pair of FREE tickets.
What are you waiting for?
Sat Oct 28th, 7.30pm – 10pm: Ha's & Stripes, Halloween Special!
205 City Road, EC1V 1JN
THE LOWDOWN
👻 Closing date is 2pm Fri October 27th and late entries will not be accepted. Our decision is final.
🎃 Entering this competition will automatically sign you up to the Skint London newsletter.
😂 For more info about Ha's & Stripes Halloween Special – and to buy your £10 ticket click here