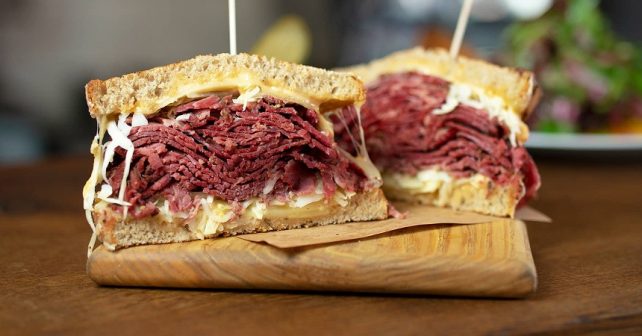 Here's a tasty little number: Hellmann's is planning to give out sandwiches to Londoners for just a QUID!
It's all part of something called the Hellmann's Real Food Tour which includes a three day charity pop-up in Soho.
The famous mayo brand has paired up with high-profile delis to offer some delicious signature sarnies with choices ranging from salt beef and halal chicken to a veggie meatball option. (All with Hellmann's, natch!)
To mark the opening they've slashed their prices to £1, but this rock-bottom price is only available for an hour so you'll need to get a wiggle on. (Mind you, even their standard price of £4.99 is not too shabby.)
Proceeds from the pop-up are going to be donated to charity Action Against Hunger. In short: eat sandwiches, do good!
Fun fact: Hellmann's was invented by German migrant, Richard Hellman, at his New York store in 1913.
Thurs 19th July, 11am – 12pm: Signature Sandwiches for £1 (otherwise priced at £4.99)
Hellmann's Deli Exchange, 3 Bateman Street, W1D 4AG
Opening hours: Thurs 19th – Sat 21st July, 10am – 5pm daily