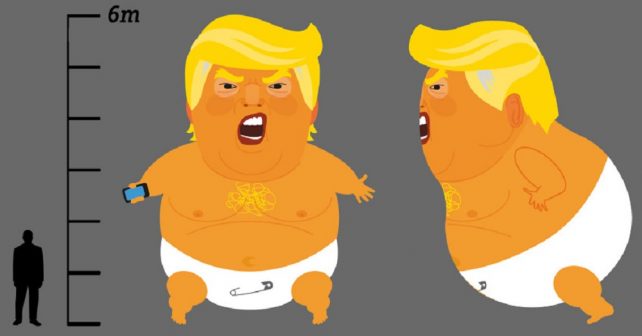 Protest signs are being written and train tickets bought for the huge anti-Trump march in London on Friday July 13th.  But one very creative company is preparing to lampoon the leader in the most British way possible – with a massive oversized baby-blimp!
To coincide with the President's visit to Britain, activist Leo Murray has designed a six-metre balloon of The Orange one. The plastic orb – complete with safety-pinned nappy and Donnie's famous tiny hands – will float high over Parliament Square as demonstrators make their feelings heard.
Whether or not it will be allowed to fly is in some doubt. Mayor, Sadiq Khan has described it as 'a symbol of peaceful protest' and given his permission, but spokesman for the I am British facebook, David Smith believes it's gone too far.  "Putting up a huge blimp that ridicules him won't make him feel very welcome and I think it crosses that line. I think the relationship between the US and the UK is very important."
Predictably,  Nigel Farage is not happy either. Ultimately, it's down to the police and the National Air Authority so watch this space. (Fingers crossed!)
Meanwhile, although organisers have raised enough money to fly the blimp that day, Murray and his team are looking to raise £20,000 to take the giant beast on a world tour.
It's an export we can get on board with; a peculiarly – and brilliantly – British way of lampooning and undermining hateful authority. And we love it!
Fri 13th, anti-Trump march from 2pm outside the BBC building
For more info on Trump Baby and how to contribute – click here