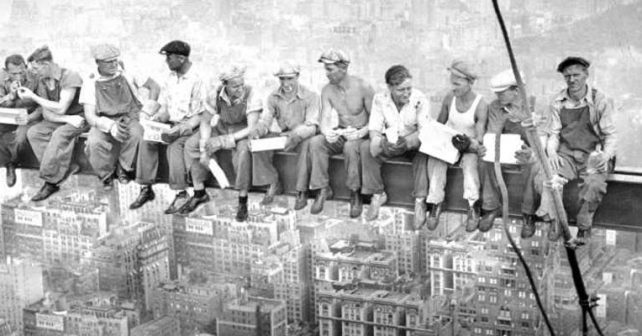 Terrifying or exhilarating? Your call, but if you like your food served with vertigo, this is the thing. Deliveroo is giving Londoners the chance to dine for FREE on a steel girder suspended hundreds of feet above the capital.
The food delivery company is recreating the famous 1932 scene of Rockefeller Center workmen enjoying their grub high above New York and 200 Londoners are invited.
Selected guests will be eating on the 8-metre steel girder site 32 storeys high (32!) and there'll be breakfast, lunch and dinner on back to back days on the specially built station.
It will be an hour in the air giving diners plenty of time to enjoy their meals. Oh and a once-in-a-lifetime bird's eye view of London Eye, BT Tower and St Paul's Cathedral below.
Winners will be able to order a FREEBIE from Deliveroo favourites including Tortilla, Bleecker, Coco di Mama & Lola's Cupcakes.
Emily Kraftman at Deliveroo says,  "When thinking about infamous lunches, the photograph from Rockefeller Center is hard to beat, but we thought we might as well give it a go!"
How to bag a seat with a view? Just follow this link and enter your details in this lottery. Lucky winners will then be contacted direct.
Good luck, London!
Tues 21st & Wed 22nd Aug: Deliveroo's Eat UP Restaurant
Great Maze Pond, SE1 9RT
Ballot closes at 4pm, Fri 17th Aug
FREE – to enter click here