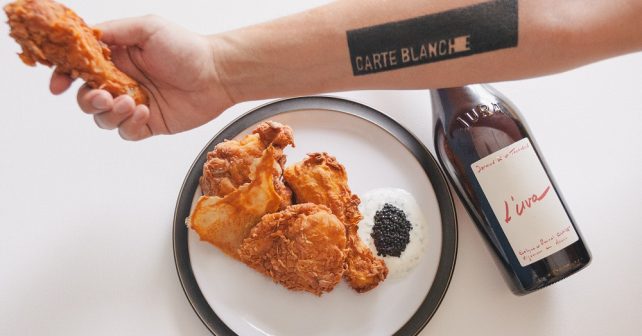 How's about this for a unique food combo? One new restaurant is planning to dish up FREE  portions of fried chicken with caviar!
This crazy concoction giveaway is to celebrate the opening of brand new eaterie Carte Blanche in Hackney's Mare Street.
If you're thinking (like like we did) that the dish must consist of something else, you'd be wrong. It's literally crispy fried chicken next to some decadent looking fish roe.
The mad menu is a creative combo of indulgent French fancy fare with an American comfort food twist. Look out for crazy creations including Foie Gras and Escargot Tostadas and Oysters, Caviar Hollandaise and Maple Bacon.
As usual, you've got to be quick off the mark as the freebies go to the first people to arrive. We're not sure when we'll next be previewing caviar giveaways so enjoy.
Fri 13th July, from 6pm: 100 FREE portions of Fried Chicken and Caviar (Eat in only)
Carte Blanche, 175 Mare St, London, E8 3RH