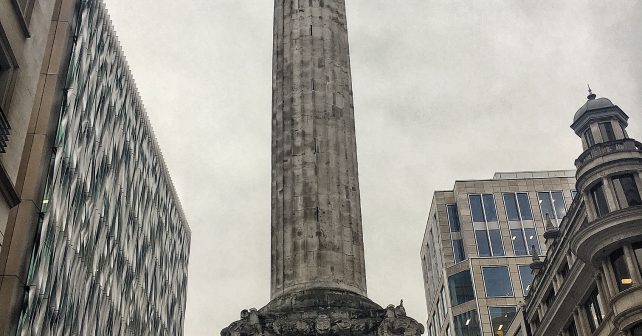 Lots of people have done it, it's more common than you think and you should always bring a friend – we are talking climbing Monument of course!
As a life-long Londoner I am embarrassed to say that I had never climbed the 311 steps of the Monument. I had spotted it many a time (well you would it's 160ft high) poking its head into the London skyline between London Bridge and Monument station.
To find the entrance just keep walking round until you find a door. Then begins the climb. A five-year old girl was completing this historic feat at the same time as me and didn't break a sweat all the way up, in fact she almost ran.
However, I took a couple of breathing breaks, got a little sweaty and my legs had a stair hangover the next day so it's not for the faint-hearted. If you need to rest on the way up there are lots of window alcoves that provide seating and weak ankle owners fear not as the steps aren't too narrow or uneven.
TV presenter Kate Thornton says she once climbed it in a pair of wedges! R.E.S.P.E.C.T. Although comfortable footwear is advised.
Once you reach Monument's dizzy heights you realise what all the effort was for – a stunning 360 degree view of London with particularly good views of Tower Bridge and The Shard.
There is a safety fence, which does mar the view (but it is there for good reason!) and it can get pretty windy at the top so don't leave your coats at the bottom – it's a long way down.
Architecture lovers can marvel at the gold flame topper up close, history lovers can discuss the Great Fire of 1666 and try and spot where it started (202 feet from Monument) and photography lovers can spend hours taking images of London. Plus you get a certificate on your way out!
FACTS:
* Designed by Sir Christopher Wren and Dr Robert  Hooke
* It recently underwent a major programme of repair costing £4.5million
* Over 200,000 visitors every year
* Built between 1671-1677
* 6 people have committed suicide by jumping off Monument so an iron cage was  erected in 1842.
Monument is open daily. Adults £4.50, under 16s £2.30 Children under 13 must be accompanid by an adult.
Watch Sam climb Monument here: