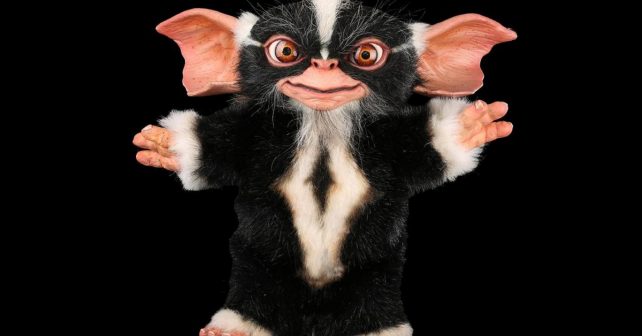 Movie memorabilia fans; stop everything. The BFI is holding a Prop Store Auction featuring props and costumes from some of our all time favourite films.
Of course, the prices are eye-watering so we're here to tell you If you're not blessed with George Lucas's Alderaan-sized pockets – and we're assuming you're not – there's a FREE preview exhibition.
Expect over 600 lots of absolute cinematic gold. Highlights include a pair of Marty McFly's self-tying kicks from Back To The Future, fearless Venkman's boilersuit from Ghostbusters, Indiana Jones's famous whip from The Last Crusade. Collectors can also snap up an achingly cute Gremlin (unfed and before midnight as he is above) as well as Robocop's iconic metal mask.
There'll be treats too for the Bond fans. Check out the late Roger Moore's Royal Navy cap from The Spy Who Loved Me as well as as goodies from baddies including villain Tee Hee's jacket from Live And Let Die.
As you might expect items are set to fetch hundreds, thousands and tens of thousands of pounds. If you want to see how the other half live the auction will be streamed live so you can follow it online.
Thurs 7th September – Tues 26th  September, open daily from 10am: The BFI IMAX Prop Store Exhibition and Auction
BFI IMAX Prop Store Auction, Tues 26th September

BFI IMAX, 1 Charlie Chaplin Walk, SE1 8XR
For more info and how to register for your own bids click here