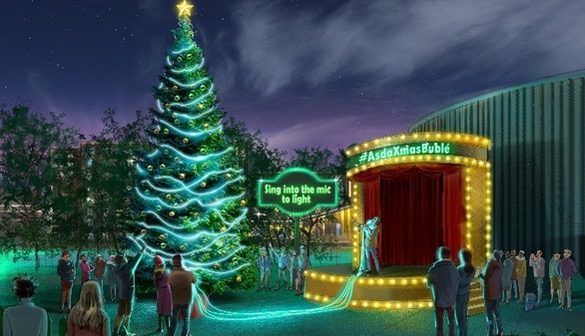 Start warming  up your vocal chords – a karaoke Christmas tree is going up outside King's Cross station.
Brought to you courtesy of Asda, this is a tree with a difference. In keeping with their 2023 Christmas ad this tree is powered by Michael Bublé.
What does that mean? Well, the lights on the 20-feet tall tree only activate when you sing the Canadian star's version of the festive song, Walking in a Winter Wonderland!
Furthermore, apparently the tree's technology uses voice recognition to detect how well you're singing so the number of correct notes you hit will directly impact how many lights go on. In short, if you're a songbird you'll produce a more dazzling tree than a strangled cat.
Aside from the fact it'll be a good laugh and good for your insta, all participants channelling the Bublé will be rewarded with FREE Asda mince pies.
Thurs 16th Nov, 10am – 7pm: Asda karaoke Christmas tree
Outside King's Cross station
#AsdaXmasBublé