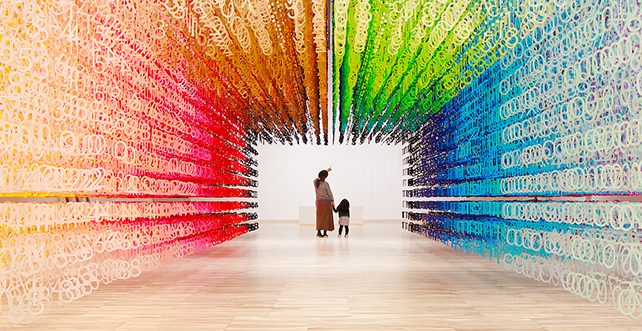 Get ready to instagram the hell out of this Emmanuelle Moureaux's FREE exhibition by the river. Slices Of Time at the Now Gallery is an explosion of colour and immersive installations.
It's the French architect's first large scale installation in the UK and is inspired by the Greenwich museum's proximity to the Meridian line so watch out for multi-coloured pieces that express the flow of time – the past, present and future – using cleverly cut out numbers and lit up figures.

Visitors are encouraged to take part by writing a significant date in their own life and the reason it's important which staff will add to the kaleidoscopic sculpture on a gallery timeline.
Talk about blowing away the January blues with a burst of colour. Is that spring we see down the road?
Now – Sun 19th April: Slices of Time by Emmanuelle Moureaux
NOW Gallery, The Gateway Pavilions, Peninsula Square, SE10 0SQ
FREE – for more info click here