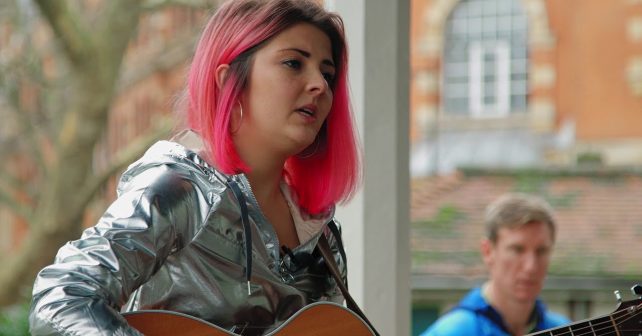 Part-time receptionist at the famous Abbey Road recording studio, 22 year old singer-songwriter Emily Burns is now launching her own bid for music stardom with debut single, Take It Or Leave It.
It's easy to focus on you working at Abbey Road. How much has that given you a leg up in the industry?
In some ways it definitely helps to work there. I get to use their studios plus they share what I'm doing on their social media. I've become pals with the engineers who I record with too. They're world class so I lucked out with that!
So no one's jealous or treating you differently since the music started to take off?
No! They're treating me just the same as before, I've been there for years. (She got her foot in the door after touring the studios and giving out demo tapes to management.) They've been super supportive and they know the reception job is not the passion, the music is.
You must have met some big stars on the front desk, right?
As a receptionist I sign people in and show them to the studio! I was in the canteen after work having a drink once and I saw Paolo Nutini. We got chatting and he came up to one of the production rooms and listening to one of my songs, This Time Next Year. He was picking out lyrics that he liked. It was crazy and surreal! Oh, and I went on tour with Bryan Ferry.
Whaaaaat?!
Yeah, he was a really nice guy! Friendly. We did some shows with him opening up his night at the London Palladium and in Scotland. I met his band and we all took the tour bus up north and had drinks together. I've never slept so well as I did on that coach!
Not too shabby. Tell us about the new single.
Take It Or Leave It is about friendship. When you're close with someone, maybe even have feelings for them but you're not 100% sure if you'll damage the relationship by getting with them.
So this is from personal experience?
This summer I was in this situation and it didn't turn into anything. We're still pals and we're pleased it didn't go there. The person knows the song about them but it's all swept under the carpet! Funnily enough, somebody who it wasn't written about texted me and asked if it was them in the song! I thought, 'what a cheek'.  I just told them it was written before I met them. That was cringe!
Sounds like a tangled love life?
Ha! It's never straightforward with me! It helps with my songwriting that I'm in situations that aren't great for you. Just don't piss me off or I'll write a song about you!
We'll bear that in mind! So what's next?
Hopefully, putting another single out. I'm not signed yet though labels have been in touch so I am hoping that might happen. I'd like to work on an EP or album some time in 2017 too. That's the dream really!
---
REVIEW: New track 'Take It Or Leave It' is a smooth, alt-RnB pop that is like The XX after several coffees. Given the success of her contemporaries, it's easy to see 'Take It Or Leave It' climbing high in the charts, and the tropical undertones are practically asking to be made into a club remix. Emily Burns is definitely a rising star and one to watch.   Georgie Holt   @asa_underscore
December 20th, Emily Burns at the Finsbury, on Green Lanes 
Reserve FREE tickets here.