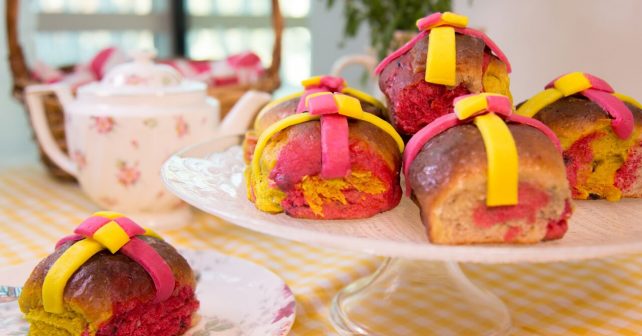 What have we here? Meet the newest Easter cake on the block: the Battenbun – a hybrid of hot cross bun and Battenberg cake.
Not only does it look delicious, you can get one for FREE on Easter Sunday!
The one-off pastry has been specially created by Canadian chef, Anna Olson to mark the third season of her Food Network show, Bake with Anna Olson.
To get your hands on a FREEBIE follow @FoodNetwork_UK on twitter or @FoodNetworkUK on FB and Instagram and get down to Lily Vanilli.
Be warned, they're being given away on a first-come-first-serve basis so you'll need to (bunny) hop to it!
Sunday 16th April, 8:30am – 4:30pm, FREE Battenbuns at Lily Vanilli.
6 The Courtyard, Ezra Street, E2.