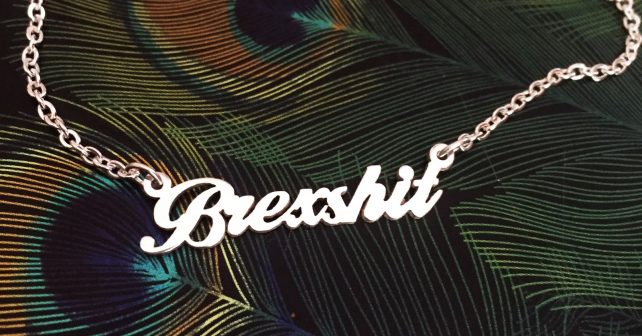 Let's be real, Brexit Is driving us all mad. Is Theresa May tenacious or certifiable? Will it all be over by 2020, 2030, ever?
The only certainty is that whether you're a Remainer or a Leaver you're fed up. Yet here we all are stuck in an interminable Groundhog Day, united only in agreement that it's a national shit show.
Want to express your frustration on your neck? We give you the perfect necklace: The Brexshit.
Produced by the brand, Fuck the Tories it's a delicate design that comes in silver, sheer gold and rose gold. (If your exasperation extends to other issues, there's also a Fuck Trump, a Fuck The Patriarchy and one that's less sweary for occasions when you've got to rein it in.)
Not only are you making a statement, 25% of the company's profits go to refugee charity, Calais Action so it comes with a warm glow.
We're offering one lucky reader the chance to WIN one so get on it and enter below. It won't sort out Brexit, but hey it does look cool.
The lowdown
💝Closing date is 10pm Monday 28th January, 2019 and late entries will not be accepted. Our decision is final.
💝Entering this competition will automatically sign you up to the Skint London newsletter.