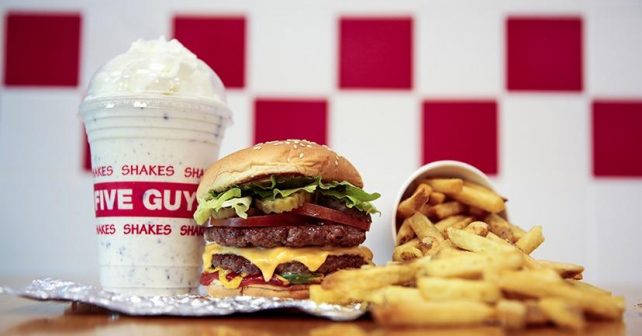 Talk about Monday motivation, London! One new restaurant is dishing up FREE meals ALL DAY during December.
Burger heroes Five Guys are opening their 100th site in St Paul's and to celebrate staff will be handing out totally gratis breakfasts, lunch and suppers. All day. That's. All. Day.
Early riser and you need feeding? You're on. Pop in from 8.30am for a bacon and egg breakfast sandwich. From lunchtime on, visitors can tuck in to customised meals (and enjoy every bite). Each burger – no matter how you take it – will be served up with fries and a drink.
Want more? They'll be marking the big giveaway with on-the-house merch so keep your eyes pealed for hundreds of branded caps and T-shirts to take home.
The only stress you've got is whether to swing by this one and/or hit up the Patty & Bun opening nearby. Decisions, decisions.
Mon 9th Dec, 8.30am – 11pm: FREE Meals at Five Guys St Pauls
4 St. Paul's Churchyard, EC4M 8AY
Eat in or take away.