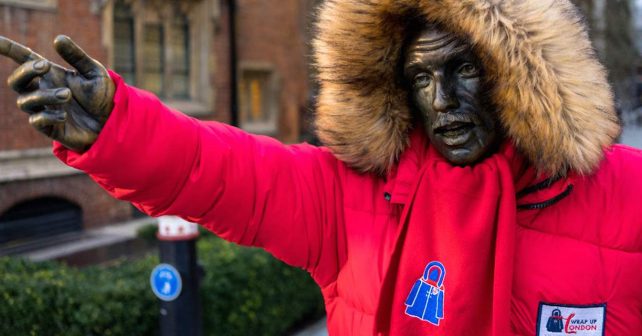 If you've just bought a new winter coat you've come to the right place: do your bit for those in a vulnerable spot and donate your unwanted coat(s) or jacket to someone who needs it more than you.
Back for its 9th year, Wrap Up London collects unwanted outerwear from Londoners and passes it on to charities that support and work with the homeless, refugees, children below the poverty line and those escaping domestic violence.
Londoners are normally phenomenally generous and, as usual,  It couldn't be simpler. Just rock up at any of the allotted stations for three days between 7am – 11am and hand over your warming clobber. There's plenty of tubes to choose from including Canary Wharf, King's Cross, Victoria and Waterloo.
And, even If you can't make it on these dates, not to worry; you can still drop off it off at one of the charity's many safestore locations between until November 22nd. We know from previous years that they're always a shortage of men's coats so chaps get rifling in your wardrobe.
Not only will you be helping someone out, your clothing won't be clogging up a landfill.
Mon 11th – Wed 13th November 2019 (7am – 11am): Wrap Up London coat donations at stations (Canary Wharf, King's Cross, Liverpool Street, Victoria and Waterloo + Broadgate Centre)

Mon 11th – Fri 15th & Mon 18th – Fri 22nd November (7am – 6pm): Drop off at Safestore locations (Chiswick, Clapham, Notting Hill and King's Cross )
For a full list of drop off addresses and all other info click here

If you'd like to help Wrap Up London collect donated coats em: wulvolunteers@handsonlondon.org.uk