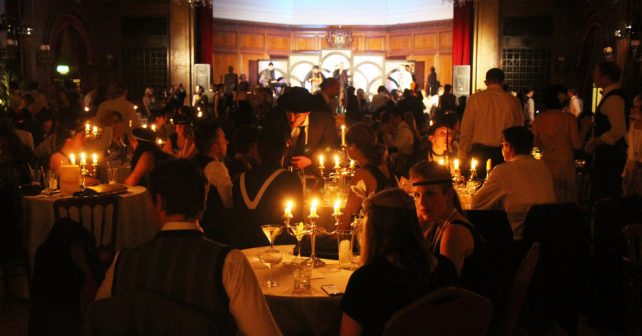 Calling all vintage loving ladies and gents, dancing shoes at the ready! We're giving away a FREE pair of tickets (normally £25 each) to The Candlelight Club's epic 1920s-themed night out.
The party specialist's upcoming 'Golden Age of Travel' night will be harking back to the era of luxury liners. There'll be music from swing band, the Silver Ghosts, cabaret displays from Champagne Charlie and DJ sets. Look out for themed cocktail and food options on the night. All guests have to do is show up dressed the part (think The Great Gatsby) – there's prizes for the best – and party like it's the roaring 20s.
There's a different theme to each party night. Highlights so far include a look back to the Russian Revolution and an immersive Valentine's ball. All the action takes place in venues lit by candlelight, hence the name.
Fri 9th March & Sat 10th March: The Golden Age of Travel, secret location
For more info about 'The Golden Age of Travel' click here and the Candleight Club click here
For your chance to WIN a pair of tickets for Friday 9th March's Candlelight Club 'The Golden Age of Travel' just enter your name and email below.
The lowdown:
🚢Two tickets are ONLY valid for Friday 9th March at a secret location in London. (We'll let you know in time for the big night!)
🚢 Winning tickets are normally priced at £25 and are for entry only. There is no cash alternative.
🚢 Closing date is Monday 5th March, 4pm and late entries will not be accepted. 
Our decision is final.
🚢 Should the prize winner be unable to take up the offer, we must be notified asap so that we can reallocate the prize.
🚢 Entering this competition will automatically sign you up to the Skint London newsletter.